Locals share their life-long passion
By Amile Wilson
The Bolivar Bullet
For every musician playing gigs in bars and on stages, there are probably dozens of people picking up instruments and playing for their own enjoyment. With its rich public music scene, Cleveland has an equally vibrant community of private musicians whose only audience is their family and close friends.
"I can barely entertain myself, let alone anybody else," Bob Eley joked bashfully. The truth is Eley's music has been an important part of his family's life and continues to be a respite at the end of a long day.
Eley, who says he never played a paying gig in his life, came from a musical family and has continued the tradition. It all started when he was a child and bought an Old Gibson guitar. He still has that same guitar to this day. Pretty soon, he and his elementary school friends formed their own band—Sweet Love and the Sour Grapes—and played their own sixth grade dance.
"We thought it was the best name ever for a band," said Eley.
Born in 1954, Eley fell in love with the sounds of John Prine, James Taylor, and Dan Fogelberg.
"There were a lot of singer-songwriter finger-pickers at that time," he said.
Eley's mother played piano by ear and his brother went on to earn a degree in guitar performance and play professionally.
"It would have been weird to not play an instrument in that family," he said.
From sixth grade on, the guitar was a fun activity that let him engage with music and with a certain Burnice Bailey of Benoit, MS. The two were high school sweethearts and would eventually marry, but their dates in 1969 often consisted of Eley calling her to play guitar over the phone.
"Of course, our dating goes back to before cell phones," he joked. "It was a long-distance call at the time from Cleveland to Benoit."
The guitar may have run up the phone bill, but definitely won him Burnice's heart.
After college, playing music became less of a priority for Eley, a civil engineer. Even though he may not have the calluses that come with daily practice, Eley still picks up the guitar and plays it for his own pleasure.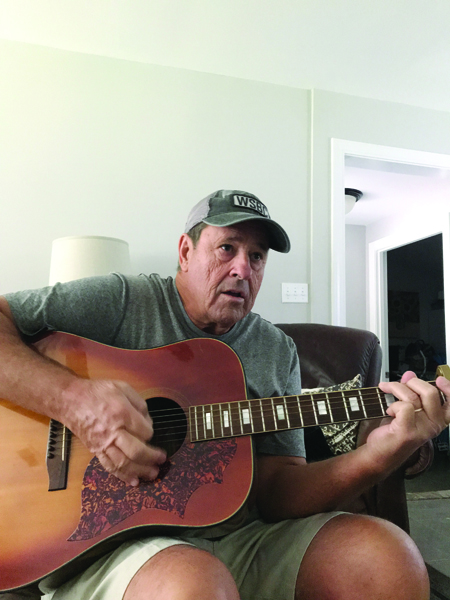 "It's an escape, all my problems go away," he said. "If I'm in a mood to pick up a guitar and start playing it, I'm not worried about my worldly problems."
Eley remains an avid John Prine fan, especially the song "Far From Me." Eley has seen Prine in concert at least a half dozen times including seeing him early this year before Prine lost his life to COVID.
While Eley's "gigs" have always been in his living room, another back-porch guitarist had quite the career in his younger years. Nicky Griffith made enough money playing dance music to pay his way though college, but it all started with playing blues after hanging out in a juke joint called the Pink Elephant.
"It was the late 1940s or early 1950s and my aunt worked for a doctor," he said. "We only had one car between the whole family, so we'd have to go and pick her up from work."
While he waited for his aunt, Griffith spent his early teens listening to music and being influenced by the personalities that came through the nearby Pink Elephant, but he also had another major connection to blues artists via the family maid.
"Her daughter got to be Riley King's girlfriend," Griffith said. "So, I got to be good friends with him."
Riley King is better known to the world by his initials: B.B. King.
At fourteen, young Griffith loved both the Blues and the new genre of Rock & Roll and the time was right for someone like him to build a fun career in the Mississippi Delta. Griffith and friends traveled around the Delta playing for weekend dance parties.
"Lots of young men paid their way through college that way," said Nicky's wife Anita Griffith. "Nearly every weekend civic groups sponsored dances to keep the kids occupied and out of trouble."
From the Knights of Columbus to the Rosedale Courthouse, the adults who grew up on Glen Miller and dancing to big band music were hosting dances for their children and many of the bands were high schoolers themselves.
"Back then no one thought a thing about driving 100 miles to come see a show," said Nicky. "We played dance music. If you couldn't dance to it, we didn't play it."
Griffith kept playing and eventually joined Joe Frank Carollo's Leland based rock band, Joe Frank and the Knights. Growing in regional popularity, the group released their own blues and rock songs while touring Mississippi, Alabama, Tennessee and Louisiana playing bars, fraternity houses and anywhere else that would let them split the door.
Taking turns sleeping on top of their amplifiers in the back of a Volkswagen microbus, the group had a good time and made a decent living in the process.
"I'd make in a weekend what my momma made in a month," said Griffith. "I sure was glad to help her out in those days."
Prior to forming The Knights, Joe Frank had been the front man for a group called The Bobcats. When The Bobcats and another band, the Rollons, merged, Joe Frank specifically recruited Griffith to give The Knights a blues sound on guitar.
The Knights lasted from 1959 until 1965, but the music never left Griffith's soul.
"It pleases him," said Anita. "It challenges him. It's just part of him. Music never leaves you."
Griffith has passed on his love of music to his son Will whose band, The Great Dying is known around Oxford.
Griffith doesn't play much in public anymore. Hearing loss from a combination of rock music and his time flying airplanes has taken its toll. He still attends at least two or three concerts a month and plays at least one of his 17-guitar collection almost every night.
Another regular on the back-porch guitar scene, Dr. Jim Adams is finally having to hang up his guitar for good.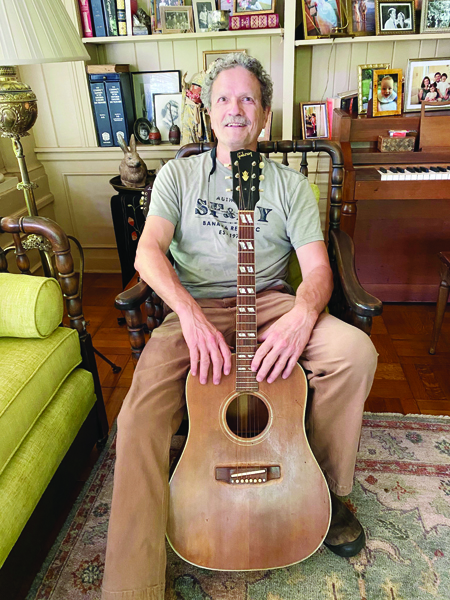 "Eight years ago, I broke my finger and now I can't bend two of my fingers to make the chords," said Adams.
Music has been part of Adams' life since he was a boy. A man hanging out at a service station in Rosedale showed him chords on a ukulele. With a little training on both the ukulele and guitar Adams and his brother, Bill formed a small garage band and even got to open for the Byrds and the Dillards when they played at Ole Miss.
"We got to meet them backstage," he said. "They just put out Eight Miles High with Decca records and we were on the front row for that concert. I get goosebumps now just talking about it."
Adams enjoyed music, but a six-week stint one spring playing two nights a week made him realize a music career was not for him.
"I just realized I didn't want to do that schedule for life," he said.
Instead, Adams became a doctor with a general practice in Rosedale, later moving his practice to Cleveland and Greenville. He still maintains a practice conducting state disability exams.
Along with the Byrds and the Dillards, Adams loves the music of Paul Simon and Joni Mitchell.
As he has struggled to play guitar in the wake of his hand injury, Adams has moved on to other instruments including banjo and violin.
"I play well enough for my 20-month-old grandson," he said. "I still like the sound of playing an instrument."
For all of the back-porch musicians, their concerts are about both the music and the people they love.