Annual fundraising event September 18
By Angela Rogalski
The Bolivar Bullet
Relay for Life of Bolivar County will hold its annual signature fundraising event for the American Cancer Society on Saturday September 18 from 4:00 p.m. until 10.00 p.m. Jamie Borgognoni, Michelle Bailey and Tracy Craddock are three members of this year's event leadership team. The theme for 2021 is "Together Strong, Heroes For A Cure" and there are approximately 4,000 fundraising events held across the country every year for Relay for Life.
The American Cancer Society not only provides critical research for patients, but also everything from emotional support to the latest cancer information for those who have been touched by the disease. The Relay for Life event provides a place where survivors and their families, along with many volunteers, can come together to share their stories and know that no one is alone in the battle against cancer.
"This year's event will be held in downtown Cleveland's entertainment district," said Michelle Bailey. "The Luminaria lighting will begin at 9:00 p.m. and honors lives that have been touched by cancer."
Relay for Life of Bolivar County would like to invite all cancer survivors in the area to join them for this event. And it doesn't matter what type of cancer.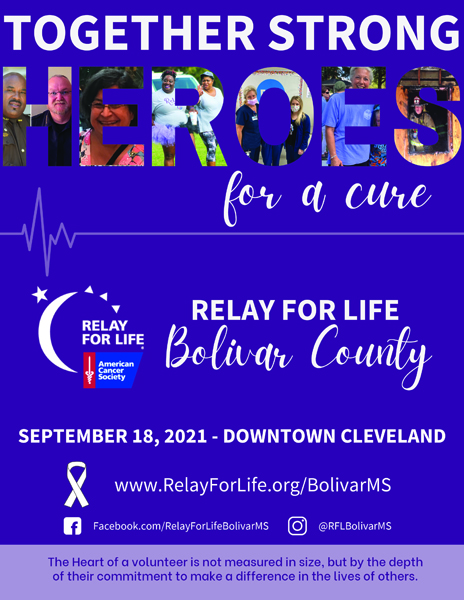 "Many people think it's only for a certain kind of cancer, but we want to celebrate everyone who has fought this battle," said Tracy Craddock. "We have a survivor's tent set up where they can come first and register and we'll have some gifts for them. We're also providing a dinner in accordance with our theme this year 'Together Strong, Heroes For A Cure.' We're offering boxed hero sandwiches and all the amenities that accompany that. And we're also having a silent auction and will be selling T-shirts as well. We want this night to be a celebration for survivors, their caregivers and for the entire community. It's so important to know as a survivor that you're not alone in this. Please come out and let's celebrate life together."
There is a survivor's lap at 5:00 p.m., followed by a lap to recognize all caregivers, then a memorial lap for anyone who has lost loved ones to cancer. And after the fun, food and games is over, the culmination of the entire event is the Luminaria service.
"We're selling Luminaria bags for $10 each, which you can buy from any team member or online through our website," Craddock continued. "The Luminaria bag displays the name of a fighter who is either still fighting or has survived cancer or someone who lost their battle with cancer. So it is either "In Honor Of" or "In Memory Of" and then the person's name. We put lights inside the paper bag and line them up along the walking trail and illuminate them."
The bags will be lit whenever it starts to get dark and then the ceremony will begin.
"We'll have a touching and moving ceremony where we scroll the names of those people," said Jamie Borgognoni.
Relay for Life is also selling yard signs to honor and remember Hometown Heroes. The signs are $30 each and will be placed in yards with a note letting people know who made the donation.
For more information or to buy a Luminaria bag or yard sign, visit www.relayforlife.org/bolivarms or call Jamie Borgognoni at 662-719-2239. Donations may also be mailed to P.O. Box 374, Cleveland, Miss. 38732
The American Cancer Society can be reached at 1-(800)-227-2345.