The Barn reopens in Cleveland
by Aimee Robinette
The Bolivar Bullet
Every hometown has a place that conjures up memories of good times. For an entire generation, the Barn, located off of U.S. Highway 61, was one such place. After years of being closed and the building showing signs of age, the Barn is back in business.
"We opened back up on Sept. 22," said owner Juan Guevara. "I decided to open the Barn back up because it was a big thing back in the day. It has so many memories for a lot of people. I felt like it should have been brought back. So I decided to do it."
Guevara said he loves seeing the smiles on the customers faces.
"That shows that it was the best decision I could have made," he said. "We offer so much here from snacks, sodas, waters, ice, margaritas, beer, and tobacco products. We would love for our customers to be able to just drive through and get whatever they want. If any of the customers have a request on what they want, they should let me know and I will do what I can to make sure we get it."
Guevara said the best thing to him about the business is making sure all his customers are pleased.
"One thing that we are working on is getting the kitchen done so we can have food that will be ready to grab along with a drink," he said. "And yes, we do still have the frozen drinks. That's one of our big sellers."
The "frozen" drink was known as the Jafreeza, which is a slush with alcohol. It's like a Louisiana daiquiri in the Mississippi Delta.
When the Barn opened up earlier this fall, Facebook and other social media lit up with memories and celebrations. Cleveland resident John Armstrong posted a picture on social media of the icy concoction and within hours, 105 people posted their joy or reminisced of the days when teenagers and college students rode the Cleveland strip and made a trip through the Barn.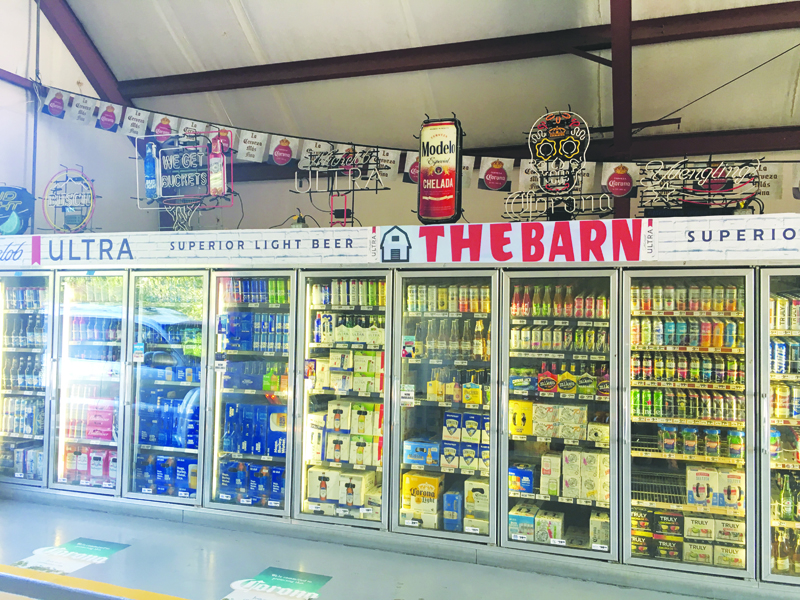 "It's the nostalgia," said Armstrong. "It was so good to do something that I did back in college and haven't done since. I always had friends that worked there. This is a strange memory, but it used to freak me out in the winter when we would pull through and they would be in the walk in refrigerators. They told me when it's 25 degrees outside, but 32 inside the refrigerator, it's a bit warmer. The place holds memories for most of us. It looks just like it did when I was in college!"
Back in those days the slogan was "Cruz thru the drive-thru."
Now, the Barn is back to making purchasing drinks and other quick items more convenient by never having to leave one's car.
"One thing I have heard is that everyone is glad to have the Barn back open," said Guevara. "I'm glad I'm the one bringing it back to life. It's just so amazing to see all the smiles on their faces when they drive through it. That shows me right there that the decision to open this place back up was the best thing to do. It was worth it getting this place back to how it used to be."
The Barn is open from 9:00 a.m. to 10:00 p.m. Monday-Thursday, 9:00 a.m. to noon on Friday and Saturday, and 9:00 a.m. to 11:00 p.m. on Sunday.