Area's newest establishments see an uptick in business
By Jack criss
The Bolivar Bullet
One of the hardest hit industries throughout the Covid pandemic has been the restaurant business. In spite of the hardships however, several new restaurants opened recently and are reporting positive growth with diners returning in rising numbers.
"8 West Grille opened on an experimental basis — weekend 'pop-ups', invitations back in November, 2020 and opened full time for supper and lunch, seven days a week in February, 2021," said Dinesh Chalwa, owner of the West End District where the restaurants are located.
"Business has been very solid," continued Chalwa. "We would like to keep growing, though. We did not have the benefit of a fully-staffed and populated DSU campus which is one minute away from us. Nor have we ever operated in months where Covid-19 was not prevalent. The best months we had were in the April to June range, when all the momentum was positive. We would greatly enjoy having an 'all clear signal' soon so that we could go full throttle with our marketing and staffing options that we've held back on. Right now the restaurant is profitable and positive but we're less than six months old, so a lot of experimentation is still going on."
Is there a specialty 8 West has become known for?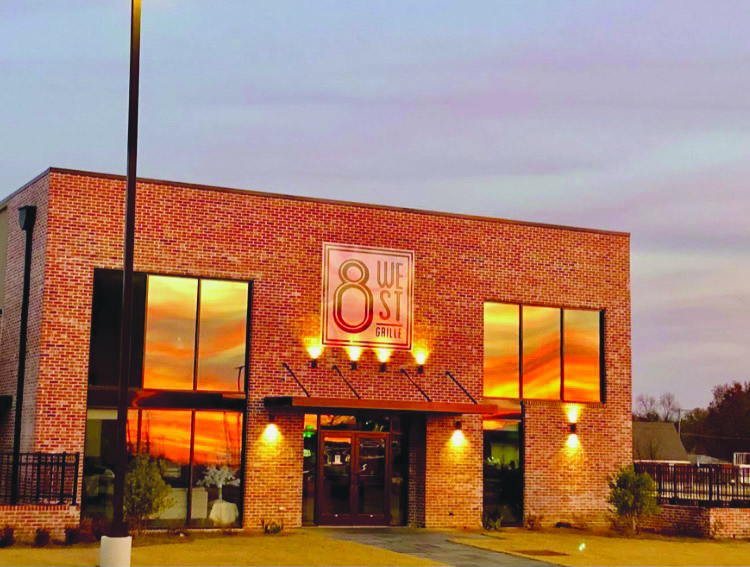 "I think we're known more for our atmosphere and positive presentation than any one specific dish," said Chalwa. "We sell a lot of steaks, salads, hamburgers, and drinks–it's really a wide range on the food side. All of our dishes are served on hand-crafted pottery, with nice jazz-fusion music in the background. It's a step up in elegance, but there is no feeling of stiffness or formality that intimidates people," he said, giving credit to Chef Stevens Flagg and manager Brenda Gilbert.
Regarding the recent rash in restaurant labor shortage, Chalwa said, "It's definitely a tight labor market. We tend to screen more for maturity and adaptability and are very competitive on the wage front: most of our people make $10 to $15 per hour plus health insurance, dental, vision, and bonuses. Some of the servers make $150 to $200 on peak nights regularly. Despite that, not everyone is flexible in schedule availability, nor work in areas required to make the restaurant successful."
As far as his other restaurant, Chalwa said, "The Farmhouse Table opened as the Mississippi Kitchen in August, 2020 and was rebranded the Farmhouse Table in November, 2020. Then, in February we had a sprinkler system failure during the freeze and had to shut it down until April of this year, reopening as a new country cooking concept, with the same name.
"Breakfast was a slow, steady build, and now it's approaching capacity limits on some days," noted Chalwa, regarding business. "It's been really exciting to see the growth and development on that front. The lunch menu was developed and expanded only about two months ago, and the current supper and sandwich menu is less than one month old. Despite all that, and the recent spike in Covid-19 cases, business has grown for about seven consecutive weeks. We hit capacity limits often on breakfast, and we are becoming known for our excellent value for all the meals. Since our April opening, breakfast has exceeded expectations, and supper has really improved with only three weeks of the new menu being out. We've become known for the blueberry pancakes and the 'Big Breakfast,' both of which are the runaway sellers. Francis Hopper and Brooke Baugh are the leaders of The Farmhouse Table."
301 Events Center downtown will be holding its official Grand Opening with a new, full menu on Friday, August 20, beginning at 4:00 p.m., said Bahaa Awad, Operations Manager and Part Owner.
"I'm pleased how business has grown since we reopened on July 14 as you all wrote about in the recent article on 301," said Awad. "Good publicity like that has helped us but, honestly, I think it's the great food that gets people coming in and coming back–just positive word of mouth."
The dress code the restaurant implemented has also been met positively, said Awad.
"It's clear now that customers didn't have to come in with suits or ties or formal dresses," he noted. "I just wanted an establishment where customers could dress nicely and enjoy a great meal–no filp flops, sandals, t-shirts or gym clothes. Now, after 10:00 p.m., t-shirts are allowed but during regular hours we prefer nicer attire."
Awad said he would answer any questions about the issue, or for any other information, by calling 662-545-4584 or 4585. Starting August 10, 301 Events Center dining area will be open Tuesday through Saturday from 4:00 p.m. to 9:00 p.m. on weekdays and until 10:00 p.m. on Saturday.
"We've gotten great feedback on our menu, especially the Boudin Balls, which are delicious appetizers," said Awad. "They're really fantastic and credit needs to go to our chef, Ladarius Tucker, and all of his great culinary creations."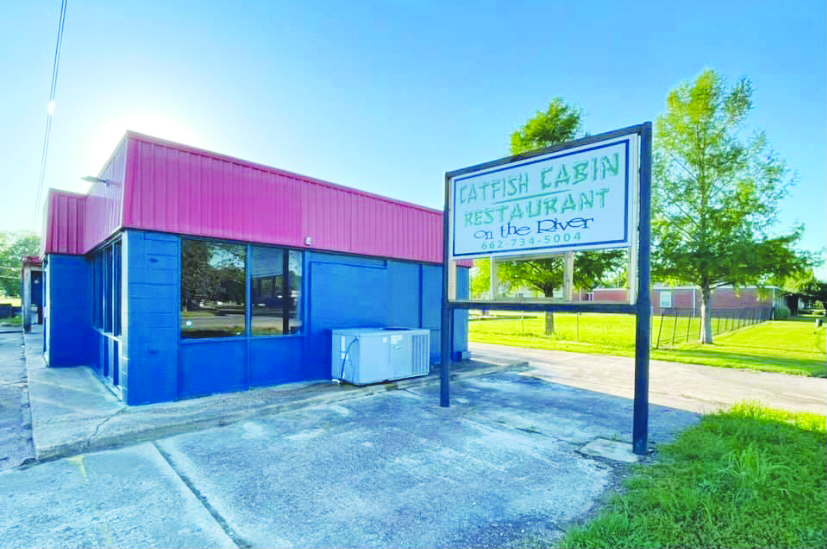 Tara Herrin owns and operates Catfish Cabin in Boyle and the newly-opened Catfish Cabin On The River in Rosedale, which began operations in May.
"Business is steady right now," said Herrin. "And, people are starting to find out about us in the western part of the country and surrounding areas. Rosedale needed a new dining establishment and we were very pleased to open Catfish Cabin On The River. We've had some staffing issues, like many other restaurants, but I go over from Boyle a couple of times a week to help out and plan on spending even more time there in the future. I will say that our manager in Rosedale, Kayla Burchfield, has done a great job and I'm very proud of the work she's done as we've gotten going."
Catfish Cabin On The River serves up the same delicious buffet as the Boyle location, Monday through Friday for lunch, and added burgers, po boys and salads to the menu.
"We're open for dinner on Thursday, Friday and Saturday nights, too. If people need a meeting place, we can also assist in that department," she added. "Just call us at 662-734-5004."
During the recent catastrophic flooding, Herrin said her restaurants partnered with the American Red Cross and, out of the Boyle location, provided 5600 sandwiches to be handed out to flood victims throughout the Delta.
"Even beyond Bolivar County, we were able to help in the best way we could," said Herrin. "And, were glad to do so."