Painting, drawing, & graphic design — all creative outlets she is passionate about
by Angela Rogalski
The Bolivar Bullet
Maggi Mosco is in-house graphic designer for Coopwood Publishing Group in Cleveland, but she's also an artist who works with just about any facet of painting, from watercolors to acrylics, as well as pencil and pastel drawings. Since she was a little girl, Mosco has had a knack and a love for painting and drawing. She took after-school classes with Delta State and 4-H when she was younger, extracurricular activities that helped her focus her raw talent and refine her abilities to create vivid drawings and paintings. Her innate creativity definitely runs in the family as her mom's sister used to paint and draw in college and her dad's sister is also a successful artist who does abstracts with texture.
Mosco grew up in Cleveland and went to Cleveland High School. She began her graphic design journey at Ole Miss and fell in love with communicating words and messages through her art. Mosco majored in Integrated Marketing and Communications, with three minors in Studio Art, Graphic Design, and Business Administration and graduated in 2019. So, her spectrum for creating work that engages with people is passionate. And today, she works in a lot of different factions.
"I love pencil drawings; I do pastel drawings and acrylic painting with texture; abstract work; oil paintings; watercolors – I feel like a lot of artists have a "thing" that they do. I don't have that; I don't have one particular thing," said Mosco. "I enjoy doing many different things."
Mosco does work on commission and said that when people ask her to do something for them, she shows them a variety of her work.
"Then they can decide what it is they're looking for," she added. "Is it a watercolor or a black and white pencil drawing, or do they want a giant canvas of paint as in an abstract. I do so many different things I like for them to see a multitude of my work."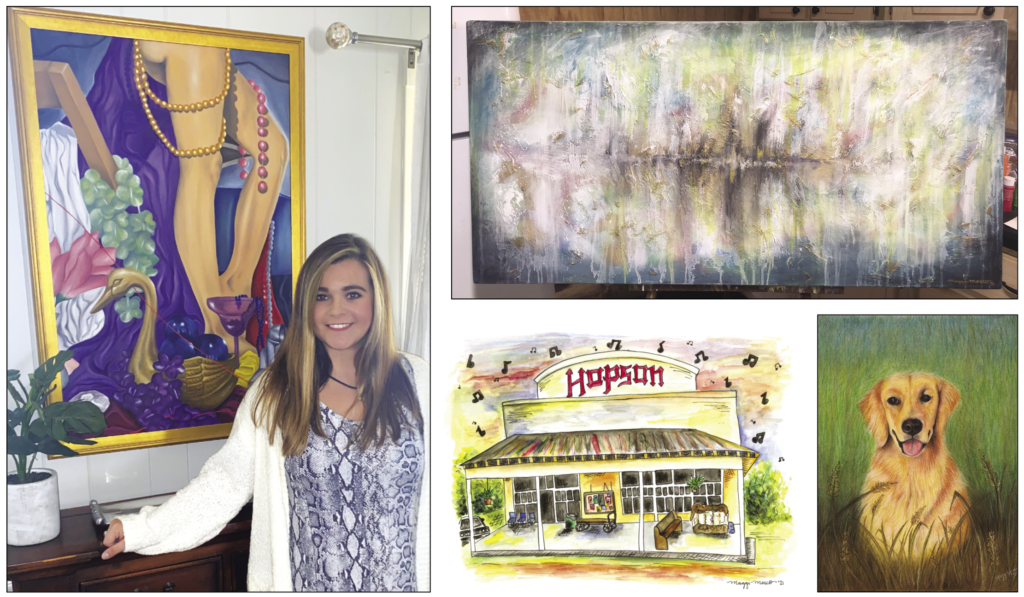 What pays the bills, however, she also enjoys immensely: graphic design. "I work full-time as a graphic designer for Coopwood Publishing Group," said Mosco. "I do the newspaper ( The Bolivar Bullet), Delta AG Journal, Delta Business Journal and also Delta Magazine with another designer who works out of the office in Jackson. But, I'm the only designer here in our Cleveland office. So, that's my full-time job and I do my artwork on the side."
Mosco said she would love to bring her art to some of the local festivals around the area, but hasn't really had the time to increase the amount of her on-hand work.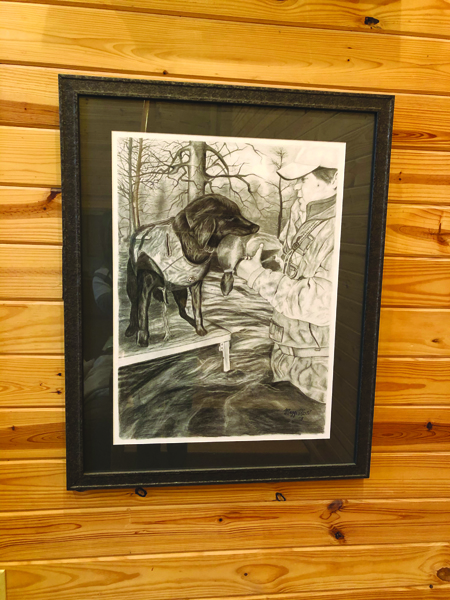 "Most of the artwork I've been doing lately has been commission-based," she added. "I haven't really done a lot of art for myself, because I have so many requests from people. And since I do also have a full-time job, it's hard to find time simply to paint."
Between her two passions, Mosco said it would be hard to say which one she prefers. She absolutely loves painting, but she also craves the satisfaction she gets from the graphic design component of her creativity.
"My work at Coopwood is my job," she said. "And, it can get stressful at times, but when I am sitting at my computer designing a poster for the BPAC or a layout in a magazine that I'm interested in, I can get lost in that work just like I can painting on a canvas in my studio. I love them both. After graduating from Ole Miss, I really just wanted to move back home, so getting the job at Coopwood was definitely a blessing."
Mosco has a newly renovated space in her backyard that she uses for a studio, which she said has really helped her to focus and get down to work on her art.
"My parents helped me renovate it, and I find that since I have a designated spot to work in, I actually find it easier to find the time to work on paintings now," she added. "I'd like to build up my collection and someday be able to have a show or go to the festivals. Goals, right?"
More of Mosco's work can be viewed on her Instagram page, @maggimoscoart.