Benefactor helps the city of Mound Bayou
by Jack criss
The Bolivar Bullet
A groundbreaking ceremony was held on Saturday, May 22, for the forthcoming "new" Community Center in Mound Bayou located on 303 M.L. King, Jr. Drive. This updated and modernized center will replace the existing structure (currently referred to as the "Facility Building") on the same site and is a result of the generosity, and promise kept, of a benefactor from Peru, Indiana.
"We were blessed to receive a donation from Apostle Charlie Hardaway-Weathersby, the founder of New Beginnings 88 International Free Church in Peru," said Mound Bayou mayor, Dr. Eulah Peterson. "When Apostle Hardaway-Weathersby was 14 years old she viewed the body of Emmett Til in Chicago after his murder. She promised God at the time that if she could ever help the town that assisted Emmett's mother, Mamie Till, during the murder trial of his killers, she would. That town, of course, was Mound Bayou.
"Mrs. Till stayed here with Dr. T.R.M. Howard who provided her shelter, security and protection to and from the courthouse each day," explained Peterson. "Apostle Hardaway-Weathersby stayed true to her youthful promise, being in the financial position now to give a gift back to Mound Bayou, and we are very thankful. She contacted me earlier this year to inform me of what she wanted to do and, again, we've been blessed."
The groundbreaking for the new center included a blessing of the grounds, given by the Archbishop of New Beginning 88 International Free Church attending from his base in New York.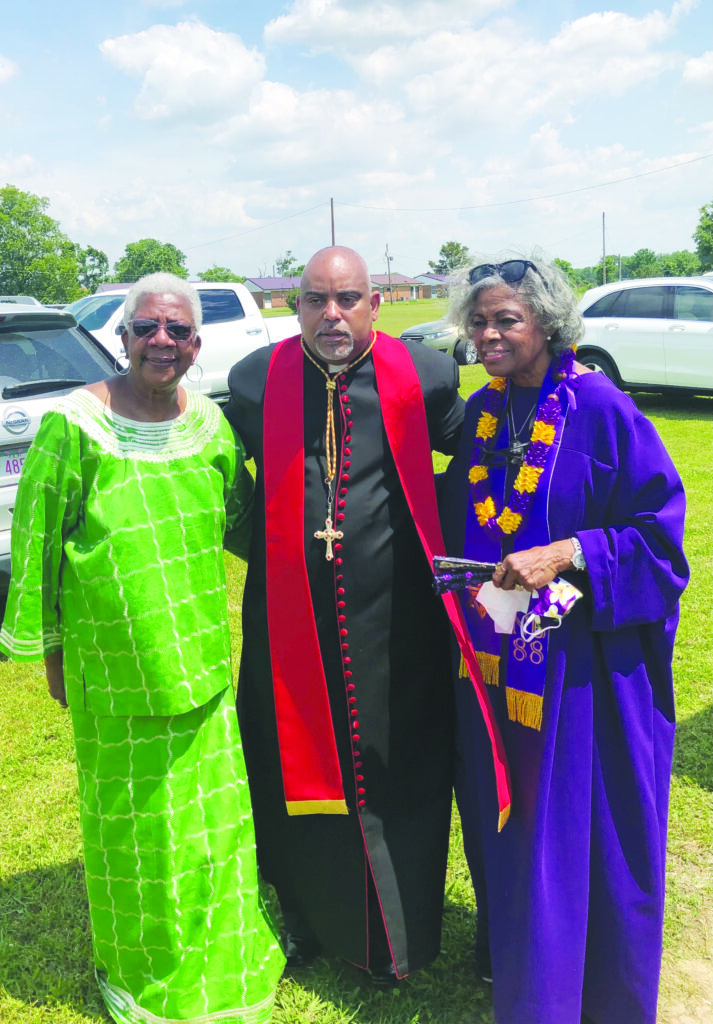 "We also had members of the church attend from all over the country," noted  Peterson, "including someone–a Clarksdale native–who flew in from their current home in Hawaii. About 35 of the Apostle's church members attended along with local residents," she said, "for a total of about 100 people. It was a wonderful event."
The existing center was in terrible disrepair, said Mayor Peterson, "so instead of trying to repair it, we are going to tear it down and put a new, state-of-the-art facility for our community. It will house a public library, an auditorium to host events, breakout rooms for group meetings, table games for children and adults, a small commercial kitchen, an exercise room and the swimming pool that is here now is going to be renovated and will remain," she said.
"The design has not been developed yet but this is what we're planning and envisioning for the new center."
Mayor Peterson said the demolition of the old structure actually started at the ceremony with the breaking and taking down of the building's east wall.
"We also conducted the shoveling of the ground and a spraying of holy water over the new dirt," she added.
When asked what the new center will mean to the Mound Bayou community, Mayor Peterson answered, "It will mean a great deal to our entire community. For the past four years we've been without use of the current structure, without a true gathering and meeting place for our citizens. Storms had damaged the building, it had remained idle and we didn't have the resources to restore or replace it. Now we do, thanks to the generosity of Apostle Hardaway-Weathersby."
The timeline for work to begin on the building projects–and its subsequent completion–has not yet been determined, Mayor Peterson said. "We're very excited and grateful because we know it's coming," she said, "and are looking forward to opening a new, modernized community center for our citizens."