Historic railroad dismantled for metal during WWII
By Keith Wood
The Bolivar Bullet
In the 1800s, the majority of the area of the Delta consisted of swamps and forests. Lumber was one of the main businesses, in addition to cotton farming. At the time, the only way to transport these mammoth timbers was by waterway. This was an inconsistent means of transportation, as flooding affected water levels, and at times of low water, dredging was needed to keep the waterways going.
The solution to this problem was the railroads, which began being built in Mississippi in the 1870s and by the 1890s were crossing through the Delta. The Kimball Lake Branch was known locally as the Peavine Branch, named as such by the workers who laid the railroad and observed the wild pea vines growing in the area.
According to information listed by The Mississippi Blues Trail, "The Peavine, originally two narrow-gauge lines run by local entrepreneurs, including a lumber company in Boyle, was taken over in the late 1890s by the Yazoo & Mississippi Valley Company (Y&MV). The line ran from Dockery Plantation 10 miles west to Boyle, where it connected with the 'Yellow Dog' (the local slang name for the Y&MV line), which led to Cleveland and points beyond. The Peavine was saluted by bluesman Charlie Patton in his 1929 Paramount Records recording, "Pea Vine Blues." Paramount Records advertising department, based in Wisconsin, used a drawing of an actual pea plant to promote Patton's record."
The Peavine Railroad met the Memphis to Vicksburg mainline in Boyle. Facts provided by The History of Bolivar County, Mississippi-History of Railroads in Bolivar County Mississippi by E. D. Holcomb, Superintendent of the Y&MV, reported, "The golden spike in the construction of the 456-mile line between Memphis and New Orleans was driven in the vicinity of Boyle on Sept. 14, 1884; and on Oct. 6, the first through passenger train schedule between Memphis and New Orleans was initiated, providing this section with rail communications to and from all parts of the country."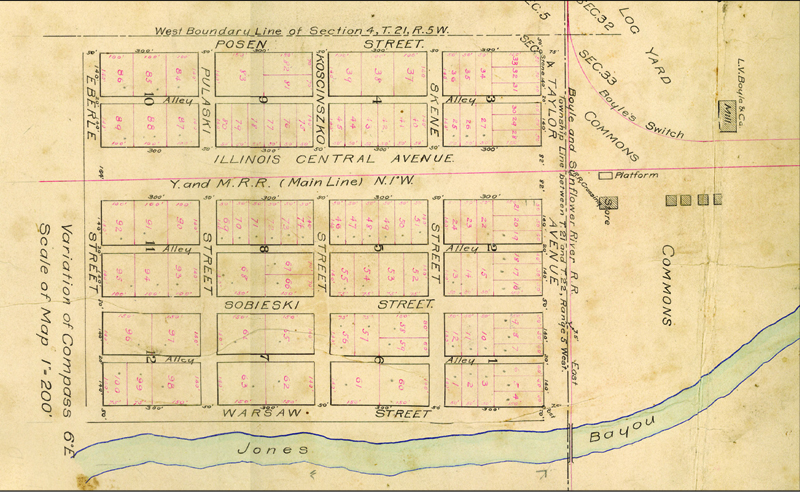 Three different railroad companies built the portion of the Peavine that ran between Rosedale and Boyle. From Rosedale to Phalia (Malvina), the tracks were built by the Rosedale and Mississippi Central Valley Railroad Company. Later, in 1899, the company was acquired by the Y&MV. The line running from Kimball Lake to Boyle was constructed under the charter of the Boyle and Sunflower River Railroad Company by L.V. Boyle and Company. It, too, was acquired by the Y&MV in 1900.
The United States Government acting through its Metal Reserve Operation, requisitioned the Peavine Railroad for war use in 1942. The line was torn down and removed, its metals being used for tanks, trucks, weapons and warships.
Now, very few, if any, remnants of the once vast railroad remain and only a trail marker highlighting the importance of the tracks is visible to the public.-