Bringing it home to Mississippi
By Jack Criss
The Bolivar Bullet
Respess Renovations, located in the Cleveland/Boyle area, offers home repairs and remodeling in the Mississippi Delta. Owner Miles Respess said his business does everything from drywall work, cabinet installs, and tile work to custom decks, patios, and fences. Miles Respess is Mississippi-born, but moved to Kansas City two years ago to work with a renovation company as a project manager.
"I grew up doing repairs, helping out my parents, but this past year, after one year on the management side with the job in Kansas City, I really started getting hands-on and got into the renovation side of the business,"said Respess. "Once the pandemic hit, I decided that I was ready to come back home. I had a cousin that lived in Kansas City, but Mississippi and the Cleveland area was home. So, I decided to bring what I did in Kansas City back with me to my community."
Respess said his business had only been going for about a month, but he was getting some really good traction from people in the area with what he does.
"Business has really been strong so far. I can do new sheetrock, drywall and drywall repair and any handyman type jobs someone might need around their home. I can lay tile, do your backsplashes; I recently tiled some showers for a couple of customers. With the summer coming, people may need decks or patios, or even fences; I can do all of that."
Respess added that with the pandemic, he practices all of the protocols available and safety is always a top priority. And most of his work right now has been residential.
"I'm working to get into the commercial side of the business," he said. "As my company grows that is a goal. But, right now I'm doing this as a one-man operation for the most part, the business is only a month-old, so I'm using this year as a building year, trying to lay a foundation. Hopefully by next year, I can talk expansion of personnel."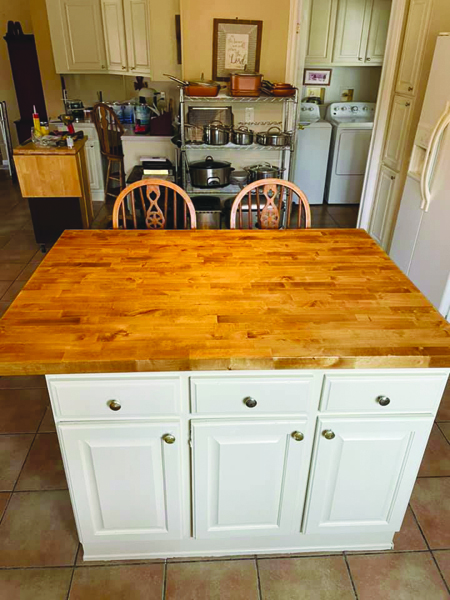 Respess said that the ultimate goal would be to also expand his business across the whole state.
"There's a lot of new construction going on, but there's just not a lot of repairing existing features versus going in a tearing something completely out available to people who need that done,"
Respess said he is also proud of the epoxy projects that he's had an opportunity to work on.
"I'm already broadening what I'm doing now. One of the first renovations that I did when I got back involved epoxy. I do the epoxy countertops, making normal countertops look like granite/marble. I did a cypress slab that the homeowner wanted to have epoxied and it really turned out phenomenal. And, that has expanded into people wanting me to do custom mounts for wildlife, deer or turkey. And, I've actually been working a lot on those right now."
For more information on Respess Renovations check out their Facebook page: www.facebook.com/respessrenovations or call 662-588-8350.