Creating custom items since 2003
by Angela Rogalski
The Bolivar Bullet
From vinyl banners to personalized Snapchat filters to websites, Ronda Rimmer Designs offers customized designs for all occasions. Since 2003 Ronda Rimmer has been doing a variety of designs for almost any event or venue needed.
"I do custom designs on different items, many times non-traditional items that you might not think of using," said Rimmer. "I can do wood, aluminum; things like that, just anything that can be printed on. I can also design on any kind of sports balls, such as basketballs and baseballs. I use a person's photo or logo and then design accordingly. I have made creative yard signs, banners, custom stoles for graduations, invitations for graduations, air fresheners, custom drinkware, coasters, license plates, mouse pads, pendants, just a variety of different personalized promotional item for clients."
Rimmer had a love and fascination for doing designs at a very early age, and took a desktop publishing class while in college.
"I loved it, and I discovered that I had a real passion for design," she said. "I began to teach myself how to do Photoshop and I remember the first thing I really did was a T-shirt for my cousin who was graduating from preschool. After I did my cousin's shirt and everyone saw it, the school wanted me to do shirts for the entire class. And, that was the very first T-shirt I made. I quickly went out and purchased my first heat press and a variety of T-shirts and my business basically took off."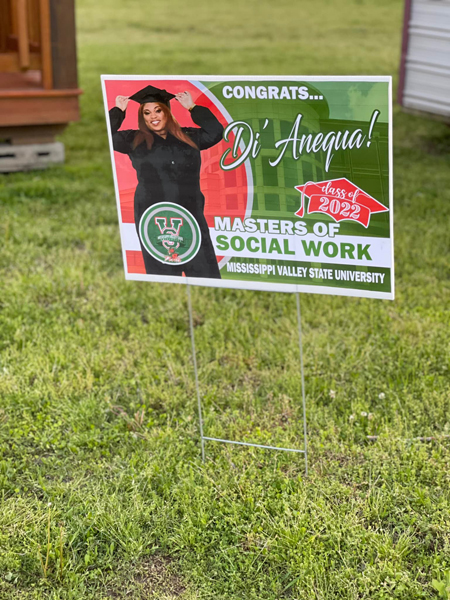 Rimmer does her designs on contract or as individual orders as she also has a day job working in public relations and as a media specialist for North Bolivar Consolidated Schools.
"But, I used to do it full-time before I got back into the workforce," she added. "I had a store in downtown Cleveland for a while. But, now I do it on the side and do a lot of contract work for different businesses and also for individual clients. If you can imagine it, I can make it personal with a creative design."
For more information on Ronda Rimmer Designs, visit the website at www.rondarimmerdesigns.com