Craig Verhage striking the iron while it's hot.
Craig Verhage's road to competition barbecue cooking began in Nesbit where he grew up cooking on the grill with his father. But, it wasn't until he moved to Cleveland that his journey began in earnest. Shortly after finishing Delta State University he received an invitation to join a local barbecue cooking team called, Pork Inn' To Please. After that, he never looked back.
"That's when the bug bit, and it really got me in a big way," laughs Verhage.
Fast forward to now, and Verhage has become one of the South's most noted barbecue pitmasters appearing on the Cooking Channel (Chopped Grilled Masters tv show) and traveling all over the U.S. competing in sanctioned barbecue cooking events. Those cooking excursions have even taken him to Australia.
Verhage has turned a hobby into a full-time job as he recently retired from his insurance business with Shelter Insurance after 25 years and took a position of Marketing Coordinator with Royal Oak Charcoal.
"My new position was to travel the country and represent Royal Oak at events while collecting social media content with video's, pictures and recipes," said Verhage. "My dream job, but Covid-19 has had different plans for me in 2020"
Cooking is his passion and for 22 years he has been a member of the famous Ubons (ubonsbbq.com) barbecue cooking team from Yazoo City. Ubons goes back several generations and today they not only run a restaurant in Yazoo City, but they also offer a line of sauces and other items. Ubons has won just about every barbecue cooking award that is offered. And from the Memphis in May competition to you name it, Verhage has played a key role in helping Ubons bring home the trophies.
"It's a lot of work and dedication," said Verhage of the cooking competitions and related events. "And it's also very social and that has allowed me to meet people from all over the world. In fact, a day doesn't go by that I don't receive an email or social media message from someone somewhere in the country or abroad talking about or asking me a question about cooking."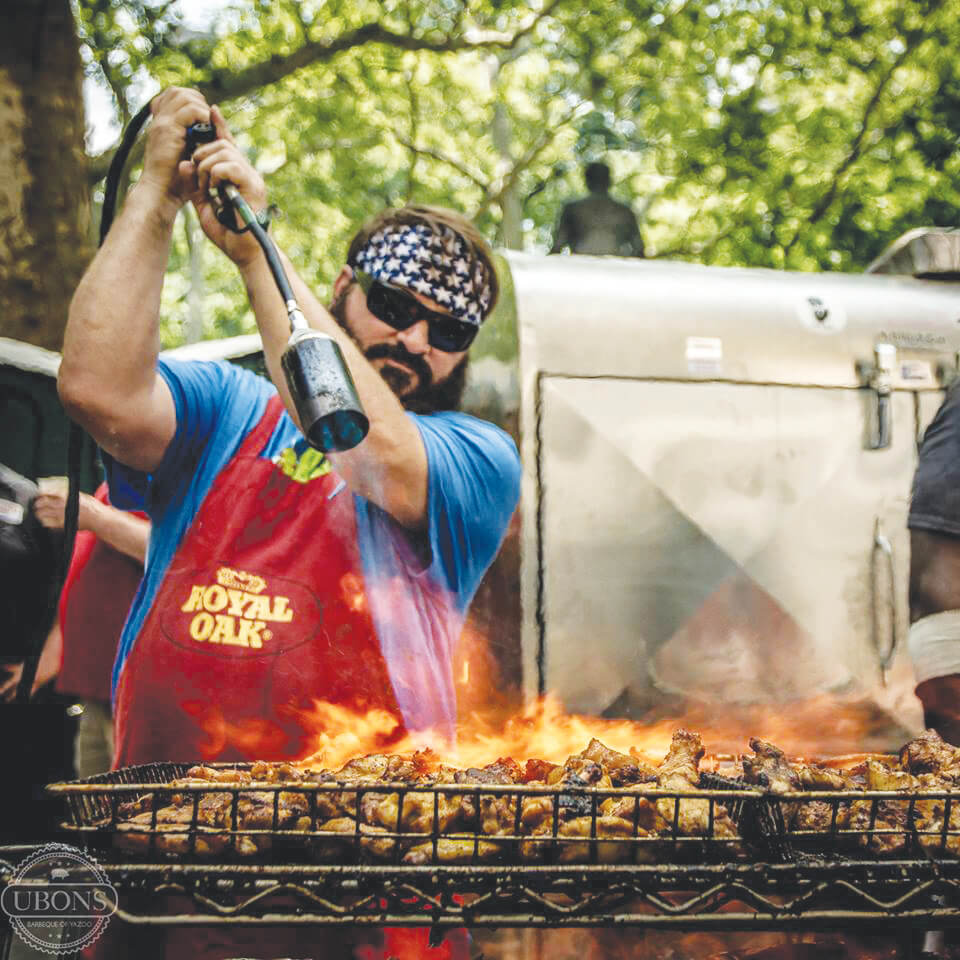 A typical year sees Verhage cooking or representing Royal Oak in Houston at the Houston Livestock and Rodeo, Denver Q event in Denver, the Windy City Smokehouse event in Chicago, Memphis in May, Hogs for the Cause in New Orleans, The Kentucky State Barbecue Festival, Q in the Lou in St. Louis. Also, the American Royal and The Jack Daniels World Championships, and OctoberFest. In addition to his travel schedule, each year he hosts a crawfish boil in Brooklyn, NY and for many years he cooked at the Big Apple Block Party in Manhattan.
Along the way, Verhage has made a name for himself on the barbeque circuit. His special technique of using a flamethrower to touch up his creations has also brought him some fame.
"I used a flamethrower on some chicken wings in New York several years ago at an event where 80,000 passed through in two days," he said. "People saw me doing that and it caught on and became a thing of which others have copied. Now, that's how I cook chicken at events and I even use it on my alligators to finish them up. The flamethrower caramelizes the sauce on the outside and gives it a great flavor."
Verhage has taken wild game cooking to another level with classes where he preaches how game is taken for food purposes and treated with the utmost respect through the whole process. He not only harvests his wild game, but he processes it too. Verhage says with a smile, "I enjoy telling hunting stories especially in New York, Chicago or Denver and seeing how people react to them. I really love seeing them light up when I tell stories about alligator hunting and how we hunt and harvest them. The reactions and expressions are priceless! Last year I cooked 12 whole alligators all over the country and it was a big hit and I've become known for that."
And, a question he has been asked a thousand times: what is the secret to cooking great barbecue?
"Patience and taking the time to get it right," said Verhage. "Another part is being consistent with quality ingredients and always use an open pit or a smoker."
Verhage said when he started out, barbecue did not have the worldwide popularity it enjoys today.
"It's amazing how it has spread all over the world," he said. "I'm sure that's due to tv, social media and other avenues. It has grown into a popular 'sport' for lack of a better word."
Besides his Ubons gig, Verhage has developed his own brand along the way called the BBQ Ninja.
"I was in New York cooking several years ago and when I cook I always wear a bandana and sunglasses," he said. "A film crew who was shooting a program started referring to me as the BBQ Ninja because of my look and it stuck!"
Follow him on the BBQ trail on his social media, Instagram: @thebbqninja and Facebook: The BBQ Ninja.