COACHES' WIVES: surviving & thriving behind the scenes.
A coach works hard all through the year as he prepares his team for practice and games.
For him to have the best chance at success, he needs to have that support on the home front.
The person that always makes sure things are running well off the field is the coach's wife. She is the one who always has his back when he needs it the most and works behind the scenes to make his job easier in every way. This highlights the lives of some of the coaches' wives.
Lainey Aldridge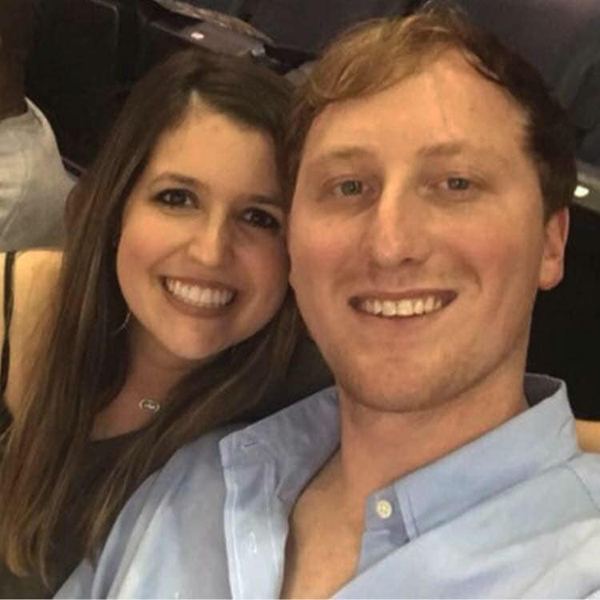 For Lainey Aldridge, being a coach's wife is the life.
Lainey has been married to Bayou Academy head high school and junior high boys basketball coach Wesley Aldridge for three years. Wesley is a young family man that has always loved the game of basketball. Where Wesley is, Lainey isn't far behind.
"My husband needs basketball to breathe," said Lainey. "It's his purpose, he knows it and he gets to live it. And I get a front row seat. What could be better than that? To sum it up, being labeled a coach's wife is a label I wear proudly. I love being a coach's wife and will always support my husband. I say embrace the journey and make it fun."
It seems like as Wesley's career continues, the couple's family continues to grow. Lainey and Wesley have four children, Reed, 7, Rowan, 6, John Rutlyn, 2 and Mary Wesley, 1. In basketball terms, they are one shy of a starting line-up. Lainey also works in Indianola, which gives her a 30-mile commute. The couple works together to keep their family going strong. Reed and Rowan have always rode on the bus with Wesley to the games, and John Rutlyn will ride on the bus this year.
"We've probably missed one or two games since he's been the coach," said Lainey. "It's definitely a juggle, but we make it happen because I know he enjoys us being there watching him do what he loves. We make time for it."
One the biggest things that's helped is the teams Wesley has coached has have been an extended family for the couple's kids. When they have things like birthday parties for the kids and other social functions, the players are invited.
For Lainey, their children and the players have a great relationship.
"They look up to all of Wesley's basketball players," said Lainey. "They want to do everything they do. A lot of the kids say they're like brothers, they've never had. It's like one big family."
Scottie Batts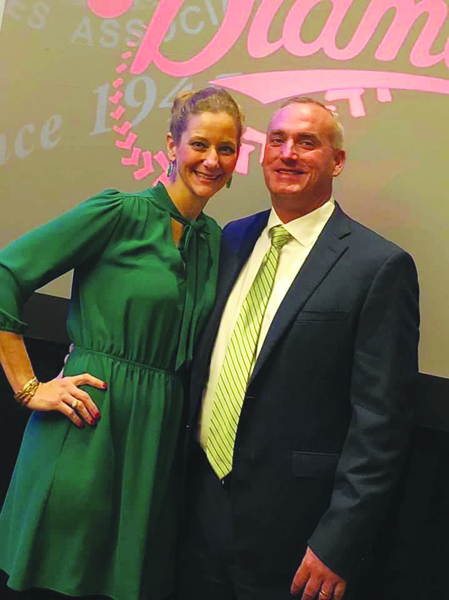 Scottie Batts, who is the wife of Delta State University head baseball coach Rodney Batts, has been a coach's wife since 2003. They have two sons, Austin, 15 and Reed, 12.
Scottie has worked hard over the years to help Rodney any way she can.
She described what characteristic a woman needs to have to be a coach's wife.
"I think it takes a strong independent woman to fulfill that role," said Scottie. "I really do. When they're at the office, when they're on the field at work, when they're recruiting and when they're having a ball game, the coach's wife takes up all the slack at home. It's a big job. My advice for anybody that's getting into it is to be patient, very understanding and very supportive."
When the two were first married, they were both coaches at the same time as she was assistant women's basketball coach at DSU, while he was assistant baseball coach. As time progressed, It didn't take her long to realize that couldn't last.
"In February of '06, Austin turned one," said Scottie. "Baseball and basketball seasons overlap. On that day when he was one, he was with my parents. I was at a basketball game on the road, and Rodney was at a baseball game on the road. I knew that night on his first year birthday, I was not going to be able to do it. I decided to hang up the whistle and become a coach's wife. It's a decision I have not regretted one single time. Do I miss it, absolutely, but I have certainly not regretted it."
During their marriage, Scottie has had to make sure the kids get to where they need to be while Rodney is at work. She is always at their kids' games which turn out to be events Rodney has to miss a lot of the time.
Those times can be trying for both her and Rodney, but they make the best of it.
"The one thing that is hard to deal with as a coach's wife is not having them there for different events," said Scottie. "When Rodney is playing baseball, our two boys are playing also so he misses being in the stands for a lot of those games. I think as a coach's wife, that is probably the toughest thing that we have to deal with and Rodney to. He doesn't like to miss his boys playing, but he understands that's the nature of the job. If he's recruiting or if he's playing the same time that his boys are playing, he sometimes has to chose work over watching that. I'm always going to be in the stands and take up that slack of him not being there. When we get home from a game and he gets home from a game, they're constantly communicating about what happened. Even though he didn't get to watch the ball game, he still gets to experience it through the communication after the ball game."
Scottie, who is a school teacher, has been involved with the program as she is the sponsor for the DSU Diamond Girls. She has also cooked meals with her and Rodney being parental figures for the players.
With Batts' experience as a college coach, her knowledge in the profession has helped her lay down a good foundation in the home to make Rodney's life easier.
"I understand a little bit better about what he deals with as a coach because I've dealt with it," said Scottie. "I have a little bit of an inside advantage to understanding what he goes through in and out on a daily basis, because I was able to experience it. I think that helps in our relationship, because there are a lot of times where they spend a whole lot of time at work. They probably spend more time at the office, on the field and on the road recruiting than they do at home. If you do not have an understanding and a support system at home that can get a little tricky for sure."
Lisa Cooley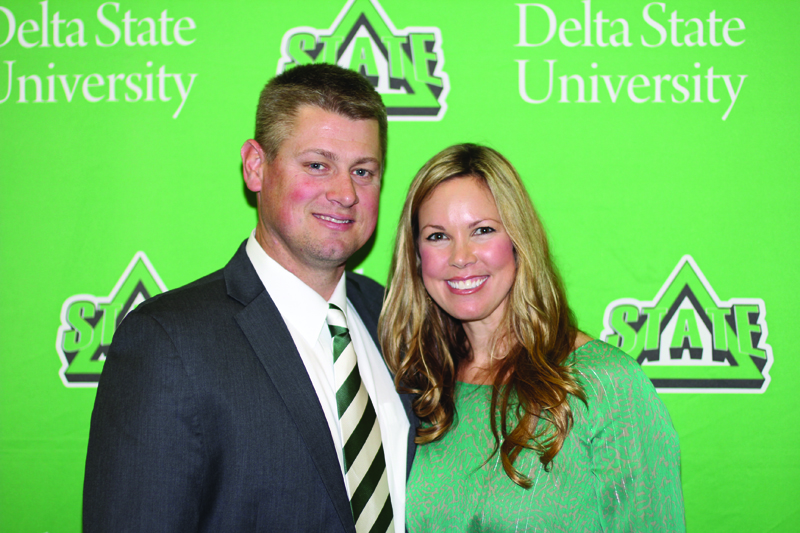 Lisa Cooley has had a fulfilling life as a coach's wife.
She has been married to Delta State University head football coach Todd Cooley for 15 years.
Whether Todd has had great times or tough times, Lisa has been right there. Of course, the coaching profession is not like most jobs. A coach never stops being a coach. When a coach is steadily working, his wife is working along side in some capacity.
"It's pretty much 24 hours a day a year," said Lisa. "You're always on the clock or on call I guess you can say. We get a lot of late night phone calls. When you have 120 college kids, things are going to happen. I think that's what a lot of people don't realize. You're always the first contact."
One of the main roles of being a coach is the role of a father figure. Each player comes from a different home environment, but all players need guidance. With Lisa and Todd not having any kids, the football players are their children.
"We always tell people that we have 120 sons," said Lisa. "That's kind of what it feels like. We've never had kids of our own. We just have all the players and that's special."
The role of helping to raise players is something the couple takes pride in.
"A lot of these kids may or may not have father figures or what not, so it puts a different level of responsibility on your shoulders, but it also makes you care so much more for them when you see where they come from and their struggles," said Lisa. "To me, the athletic part of it is such a tiny part of what Todd does and a tiny part of what I'm involved with. What we deal with more is the lives of the players and really trying to get involved and help them."
One thing about being a coach's wife that is special for Lisa is seeing the players grow up in front of her very eyes.
"I love to get to see the players develop as men," said Lisa. "When they get here as freshmen, they're babies and by the time they graduate, you're so proud of them. A lot of them go on to grad school and different things and so many of them are first generation college students. To witness the pride that they feel when they're able to graduate from college, it's so amazing."
As Lisa's life with Todd has unfolded, she has been more than happy with the way Todd has treated her and supported her ambitions.
"He's allowed me to pursue my dreams also," said Lisa. "He's always looked at our marriage as a partnership and it's not all about him. Since we've been married, I've been able to go back to school and get my PhD. I got my MBA while we were married and things like that. He was very supportive and understanding and wanted me to have an identity. It's important, and I think that really helps the marriage."
Meredith Fletcher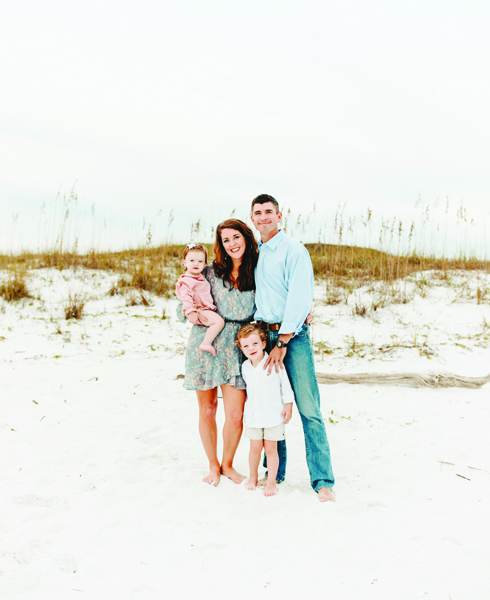 The life of a coach's wife is something that Meredith Fletcher has been able to embrace.
She has been married to Cleveland Central High School head baseball coach Alex Fletcher for close to 10 years. Alex has been a coach for the vast majority of that time. The couple has a son Graves, 4, and a daughter Betsy, 2.
For Meredith, being married to a coach takes alot of work.
"Sometimes it can be kind of challenging with the time commitment it takes from a coach," said Meredith. "There's just so many hours that they have to put in. It can be challenging sometimes with kids and me trying to pursue my professional career as well. Overall, it's rewarding just to see Alex doing something that he loves. I think he enjoys it."
Meredith is no stranger to sports as she played softball at Delta State University from 2003-06. She would later serve as head softball coach at Pillow Academy for three years.
Meredith's sports experience has come in handy during the marriage.
"I've been around sports my whole life, so I do think I provide a good listening ear from time to time when he's trying to bounce ideas or just kind of vent after games and stuff like that," said Meredith. "We've enjoyed that part of it."
Along with Alex being a coach, Meredith has been a CPA.
Meredith felt blessed that every aspect of the marriage has stayed strong.
"The last few springs have been totally hectic," said Meredith. "Spring time is a very hectic time for both of us, so thankfully we have a strong family and friend support system that pitch in. Unfortunately in the past, I have not gotten to see as many games as I would like but hopefully that will change in the future. Needless to say when the end of May rolls around, we are ready for a vacation for sure."
The couple has been living in Greenwood and is in the process of moving to Cleveland. During his tenure as CCHS head coach, he has had to commute over 50 miles to work everyday.
"It created a little bit of stress, but he also enjoyed the ride a little bit," said Meredith. "He said it would allow him time to get his thoughts together after a game. He had the drive home to kind of reflect. With that being said, the move to Cleveland will be easier on our family and give us more time together. Our little boy loves baseball and being at the field and around the guys. This will give him an opportunity to do that."
When Alex comes home after a game, Meredith said he doesn't get too high or too low.
"Honestly from his demeanor, I wouldn't be able to tell if they won or lost," said Meredith. "He's really more interested in effort and improvement and things like that."
Dawn Godfrey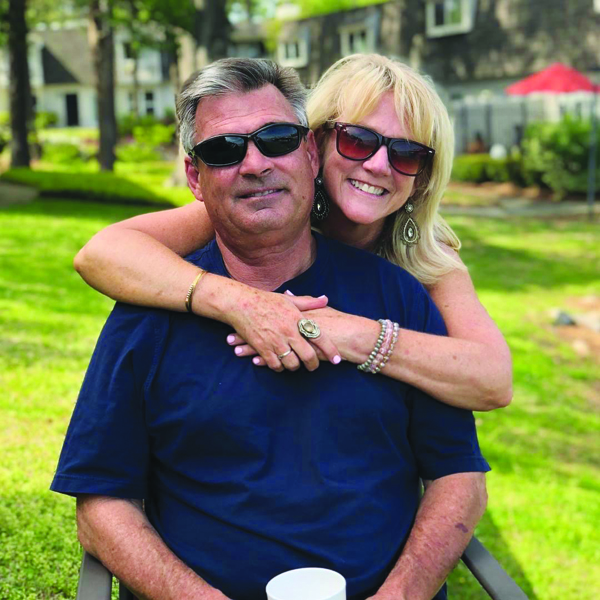 Dawn Godfrey has been happily married to Bayou Academy head football Flip Godfrey for five and a half years.
What's helped her being a coach's wife is she's a sports fan and a huge fan of the Colts head coach.
"I've loved sports myself," said Dawn. "I just love seeing him excited about doing what he loves. He did retire for a little while. It took him a long time to get back into a routine. He would wake up not knowing what to do, because he wasn't doing it anymore and it took him a little while. Now that he's back into it, he's so excited. I love seeing him happy."
Like many coaches, Flip takes on the role of a father figure and mentor for his players.
Seeing the way Flip cares about the players is something Dawn thoroughly enjoys.
"He loves the kids more than anything, and I think that's what keeps him young," said Dawn. "Mentoring them, teaching them about life and seeing the excitement in their eyes, he just wants them to do their best in anything especially in life. It's very rewarding to him."
When Flip comes home after a loss, Dawn can tell the wheels are turning in his head.
"It's definitely a lot more fun when there's a win, but when there's a loss, I just try to stay positive," said Dawn. "He really mostly blames it on himself if they lose and everything. He's just trying to think about what went wrong and everything. He just seems to sleep better when there is a win behind him instead of a loss because he's already thinking about what he did wrong and what changes they need to make to do better. I can just tell his mind is going 24-7. Of course, he does that with wins but he just seems to rest better if he has a win."
Dawn said her ultimate role as a coach's wife is just trying to support her husband anyway she can.
Matoschia Johnson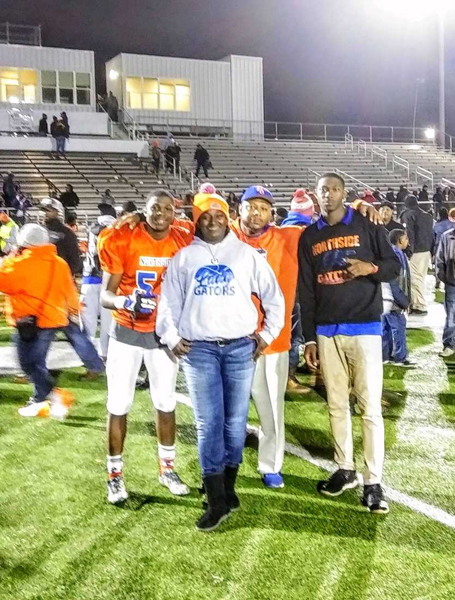 Matoschia Johnson, who is the wife of Northside head football coach Tavares Johnson, Sr. for 25 years, understands a lot about being a coach as she is currently coaching the Northside Middle School girls basketball team and is the head coach for the Northside High School fast pitch softball team. She also played collegiate basketball at Alcorn State University.
Matoschia and Tavares met at Alcorn State University.
The fact the two loves sports provided a good foundation to start their marriage on.
"It was a good match with both of us loving sports, and it does help with the marriage being that we have some of the same interests and hobbies," said Matoschia.
Matoschia's love for athletics and coaching gives her a little extra insight into how hard Tavares has to work.
"With me being an athlete and a coach myself, I understand the time that it takes for my husband to put into this game called football," said Matoschia. "I tell people all the time when it's football season, I'm not a married woman. I say that jokingly to let people know I understand that he's going to put a lot of his time in it. I know he's going to spend long hours coaching this game during practice, film study and he's a father figure to all of his players. He talks to them about manhood, problems at home, problems on the field and school. It does take a lot of his time, but me being the wife that I am I understand that."
Many wives of coaches get involved in the sport their husband coaches. Matoschia does stats for the Northside High School football team. On the Northside football team, Tavares Jr. is an assistant coach with his father and TreShun will be a senior on the football team this upcoming school season.
With Matoschia being statistician for the football team, it gives her another avenue to provide help in a big way.
"When college coaches come calling and seeing how many tackles and how many receptions and all of this, I'm able to keep that for them," said Matoschia. "I love doing that because as coach's wife, I don't have to sit at home and wait on my husband to come home. I'm there beside him, and I'm a part of all that. That's a good thing. I'm supporting him and my son TreShun at the same time as he plays."
Matoschia looks at being a coach's wife as labor of love.
"I love supporting my husband and my sons as they play this game of football," Matoschia said. "It makes me proud to see how successful he is as a coach, and I know he deserves it because of the hard work he puts in. He uses this game of football to mentor many, many players."
Cindy Kinnison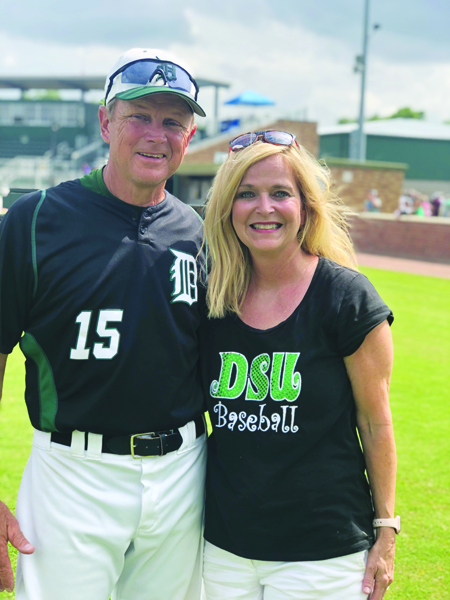 For many years, the Delta State University baseball program has been one of the best in the country.
For a lot of that time, DSU Athletic Director Mike Kinnison was the skipper of the program until he resigned from the position after the 2019 season to focus on being an AD.
It's been said behind every great man, there's a great woman. That woman is Cindy Kinnison, who has spent much of her life married to Mike.
Cindy gave a few quick adjectives of what it's like being a coach's wife.
"Busy. Challenging. Fulfilling. A rewarding rollercoaster ride," said Cindy.
The ride Cindy has been on as a coach's wife has seen many peeks and vallies. Over the years, Mike has had to hit the road recruiting and work long hours at the office, on the field and during games. Cindy has been his biggest fan through it all. She has sponsored the DSU Diamond Girls and helped out with instructional camps her husband is involved in.
"Delta State Baseball is a very special program," said Cindy. "The importance of camp was to not only teach baseball fundamentals, but it also gave young ball players an opportunity to experience the family feel that only Delta State can offer. I loved every minute of being a part of the camp – getting sweet smiles and sweaty hugs from the younger campers each day. I hope I gave moms a little encouragement as each child learned to face challenges with new techniques or competition."
The couple raised two daughters, Mary Claire and Kate.
When it came to the demands of being a head coach and the emotional toll it can take on a person or a family, Mike and Cindy learned how to deal with everything the best way they could.
"The job is year-round," said Cindy. "The stress of recruiting, camps, practice and the season can feel never ending; but we have loved every moment. We knew it would take a toll if we allowed every emotion to take control, so we decided early on that we had to leave it all on the field. This was especially true after we started raising a family. Our girls are as competitive as their dad, and they always want to win. We care about the losses, and we learned from them. We are resilient, and we adjusted to keep things moving forward. I think one of my most important jobs as a wife is to be an encourager and to try to stay focused on the positives even in the midst of disappointment."
Even though Mike has had to miss events his girls have been in, Cindy said everyone in the family realized what type of a profession coaching is.
"We have always known that coaching is more than a job – coaching was always his calling," said Cindy. "Even though he may have had to miss out on a few things along the way, we always found a way to make it work. His commitment to the program, the facilities and his team often kept him away, but our girls have always understood that it is a necessary part of the time commitments that coaching requires. The important thing I have learned is the power of prayer and commitment to my faith. It takes a ton of patience, a willingness to adapt and a lot of independence."
The life of coach's wife is something Cindy wouldn't trade for anything in the world.
"I have always loved being a coach's wife," said Cindy. "It became obvious early in our married life that in order for us to have time together, we needed to be invested as a family. Our girls have grown up at the ballpark and are proud to be a part of their dad's support team. We have all loved baseball so much that we frequently planned summer vacations around visits to professional baseball stadiums across the country. We also have an extended family of ballplayers, diamond girls and their families. Lifelong friendships have been formed along the way. We look forward to Delta State baseball reunions every two years to catch up with former players and their families."
Kristy Kitchings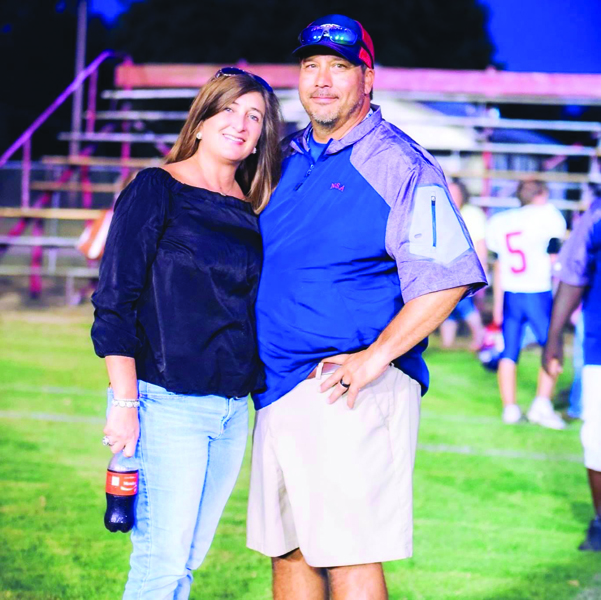 Kristy Kitchings, who has been the wife of North Sunflower Academy athletic director and coach Todd Kitchings for 25 years, has seen the trials and tribulations her husband has gone through during the course of his coaching career.
Todd has been in the coaching profession for the last six years.
When they got married, Kristy didn't think it would lead down this path.
"When I said 'I do' 25 years ago, being a coach's wife never crossed my mind," said Kristy. "I knew Todd loved sports and was great with kids, but I never once thought that I would have that label that I am now proud of. I can honestly say being a coaches wife is one of my greatest titles after mom. We are recent empty nesters, and I think we have adopted every student-athlete at North Sunflower Academy. We treat each of them like our own. They may not like the rules set forth, but they all know we have their best interests at heart."
One of the biggest requirement to being a coach revolves around the won-loss record. People love the coach when he wins, but are quick to down him when he loses. The profession goes deeper than the W's and the L's as a coach has to lead and mentor their players off the field as well as on. A coach has to make sure a player stays on the straight and narrow, and the wife of a coach is right there seeing him go through those struggles.
"The ugly side of this life is that not everyone will love your husband like you do," said Kristy. "Sometimes you just have to bite your tongue. Not everyone understands that while sitting in his recliner trying to unwind from the day, he is answering over 20 phone text messages and emails. They don't see him agonizing over a player that may be going down the wrong path and it weighing heavily on his heart."
Like many coaches' wives, Kristy is involved with the school and the team as she is the cheerleading coach and Public Relations Director.
When analyzing her life as a coach's wife, she wouldn't trade it for anything.
"The good side far outweighs the ugly and bad," said Kristy. "I get to spend a lot of time with Todd. Most people like "me" time; we like "us" time. While my husband is on the field coaching his players, I am on the sidelines as the cheer coach. Todd and I work together on lots of things school related from washing uniforms, organizing the football program, typing up rosters, planning events for the student-athletes, fundraising, keeping his office clean, campus clean ups, and much more."
Lynn Smither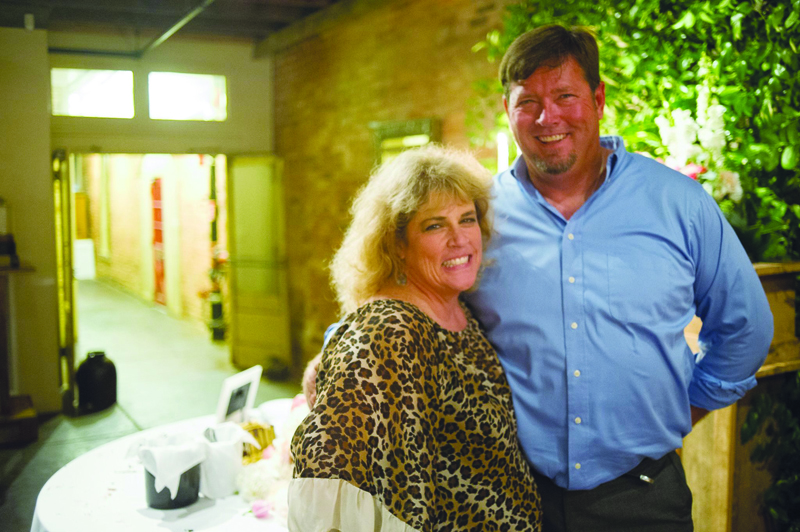 Lynn Smither, who has been married to North Sunflower Academy head football coach Ricky Smither for 26 years, has been there for her husband through the good times and the bad.
She has cooked team meals, washed uniforms, cared for sick players, helped parents, planned events and the list goes on. She has always been there for Ricky when those stadium lights came on during football season.
"I went to every game he's ever coached, except for when one of the kids was sick," said Lynn. "I went to practice a lot so that the kids, when they were younger, would get to see their dad before bed."
When a coach's wife watches her husband and her team, she gets to hear the crowd. Fans in the stands tend to be very opinionated about the game.
Lynn has had to learn to drown things out when it comes to people in the stands and their opinions.
"Being a coach's wife, I have a hard time listening to the fans in the stands and not taking it personally," said Lynn. "I try not to sit in the bleachers any more. I sit in the end zone or on the visitors' side, so I don't have to hear the negative coaching comments because everybody is a coach.".
So far this year, Lynn is enjoying her experience at NSA. She not only gets a chance to see her husband on the sideline but her kids as well. Their son Russ is the offensive coordinator and daughter Kaitlyn is a cheerleader.
"I am jealous, because I am not on the field with them, but I know it is something special," said Lynn. "That was one of my husband's dreams was to be able to coach with his son, Russ and have his daughter as a cheerleader. So that makes me one proud coach's wife."
By Andy Collier
Sports Editor, The Bolivar Bullet