Tremmel hits all the right notes at the Delta Music Institute.
When Richard Tremmel arrived at Delta State University in 2015, he was excited and intrigued by the position he had decided to take. The newly created instructor position in the Delta Music Institute was uncharted territory and one in which he believed he would thrive.
Founded by musician and well-known record producer, Norbert Putnam, and then managed and overseen for many years by Delta State graduate, musician, and Grammy Award winner, Tricia Walker, the Delta Music Institute has become one of the leading recording and sound reinforcment programs in the South.
"I began teaching at DSU in August 2015," said Tremmel. "Since then, I have become a Certified Pro Tools Instructor, earned the Education Specialist degree in Curriculum & Instruction from the University of West Florida in 2018, and received the title of Professor of Practice in Entertainment Industry Studies. I am now serving as the interim Director of the DMI and Chair of Entertainment Industry Studies."
Tremmel lived in Massapequa, New York until the middle of 5th grade when he moved to Marietta, Georgia. He received a blend of cultural experiences which he uses today.
"My undergraduate studies were at East Carolina University where my degree was Music with Business Emphasis," said Tremmel. "I played trumpet, euphonium, and bass guitar in the bands there as well as in rock bands on the weekends. After graduation, I worked for a large retail record store chain and managed one of their Atlanta stores. In 1988, I moved to Hollywood, California, to play bass and keyboards in bands and performed in famous venues like The Whisky, The Roxy, and The Troubadour on the Sunset Strip."
Leaving Los Angeles behind in 1992, Tremmel retuned to East Carolina University and obtained a teaching certificate. In 1993, he became a middle school and high school band director. Then, after six years as a band director, he attended the University of North Carolina graduate school where he received a Master of Music Education degree. In 2001, he was offered a job at Guilford Technical Community College in High Point, NC to teach in their newly formed Entertainment Technology program. He stayed there for 15 years.
"During that time while teaching courses such as Electronic Music, Entertainment Promotion, Entertainment Law, and Intro to the Entertainment Industry, I became a Certified Pro Tools Operator (digital recording software) and earned a certificate in Composing and Producing Music for Film and Games from Berklee College of Music," said Tremmel. "I also completed a Master of Science in Entertainment Business degree from Full Sail University in 2011."
Tremmel's passion for music began at an early age.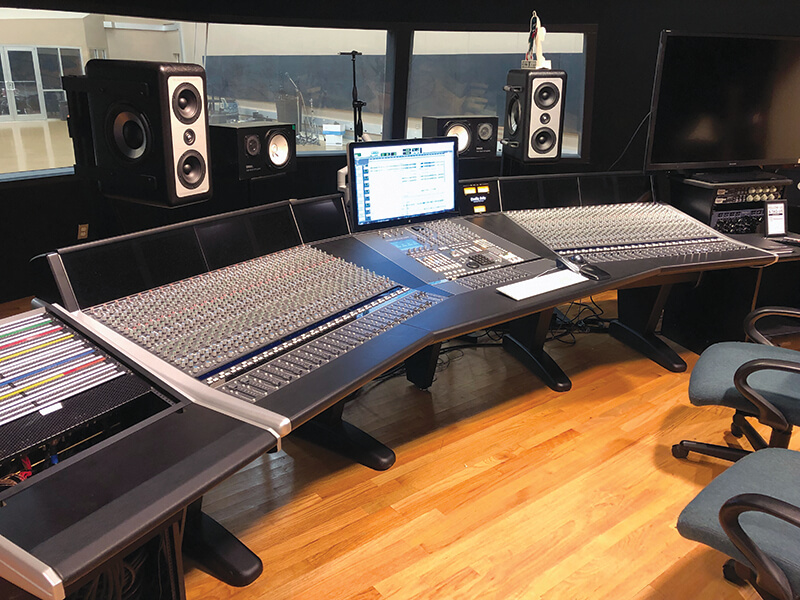 "I started playing trumpet in 4th grade because my parents encouraged all kinds of music and because an older kid across the street played the trumpet and it seemed like it might be fun to be in band," he said. "In middle school, I also began playing the euphonium (baritone horn) and at 14, met a classmate who played electric guitar; he encouraged me to get a bass guitar and amplifier so we could start a rock band—so I did. I played in every band we had in high school—trumpet in symphonic band, euphonium in concert band, bass guitar in the jazz band, and trombone in the orchestra and I was the drum major of the marching band during my senior year. I have continued to play bass guitar and synthesizer in bands throughout my life. From 2007-2011, I played bass in a national touring band and among our many gigs had a residency during the annual Sturgis Motorcycle Rally three years running. Just before I left North Carolina, I was playing synthesizers in a Pink Floyd tribute band based in Charlotte, North Carolina."
Some of his original music has been published and received airplay on TV channels such as History, FYI, Tennis Channel, and NBC Sports.
And, why did he set his sights on Delta State?
"The ad for the position just happened to come at a time when I was considering leaving the community college program where I was teaching and looking for a new opportunity," said Tremmel.
Now, in his fifth year being a Delta transplant, the instructor continues to live in the birthplace of American Music.
"The experience has been great," said Tremmel. "The students are open to learning and very respectful and my co-workers at DSU are extremely knowledgeable and supportive.  I'm impressed that a program like the DMI exists and that there is a Bachelor of Science degree in Entertainment Industry Studies. If there had been a program like this when I was preparing to go to college, it's what I would've chosen. Our improvements are motivated by the industry itself, it's always changing and we have to ensure that our curriculum and our knowledge reflects current practices so our students are prepared for the real world of the entertainment industry. I enjoy working with a supportive team of faculty and staff at the DMI and I appreciate the support of the other program chairs at DSU. It's been interesting to watch Cleveland grow over the last four years and I look forward to seeing what's next."
By Aimee Robinette
The Bolivar Bullet