Award-winning company serving the Delta.
From its founding in 1953 by Howard Robinson until the ice storm of 1994, Robinson Electric was mainly a mom and pop business. But, that major winter event provided an opportunity for the company to serve those in need, meet new customer demands and develop the business. From 1994 to 1998 the company experienced explosive growth, doubling its workforce.
And, when Hurricane Katrina struck the Mississippi Gulf Coast in 2005, Robinson Electric responded. It spent two years involved in federal disaster response work in the southern part of the state, further expanding the company's exposure.
Today, Robinson Electric is an award-winning company licensed to work in Mississippi, Alabama, Tennessee and Louisiana. It partners with contractors, private owners and developers, and has approximately 70 to 80 employees. Most of the work falls within a 120-mile radius of Cleveland, ranging from Memphis to Yazoo City to Starkville.
"Our name has spread throughout the South," said President and CEO Brian Robinson. "We are large enough to take on any project in this area of any size, but we still handle the smallest of projects also. We try to be exceptionally diversified in all sectors of the electrical market: commercial, industrial, residential, LED lighting, signage, service, generator installations and service, and ag markets are all areas where we excel."
Robinson says business is better than he's ever seen. This includes contracts with Nufarm in Greenville, an ag-chemical handling facility. "That's a nice project for us, it's a nice project for the Delta, and it's a huge addition for Greenville," he said.
In the ag sector, some of Robinson Electric's largest clients are port and terminal-based companies, along with grain-handling facilities, in Greenwood, Rosedale and Indianola. "We've done a lot of work to keep those systems up," said Robinson.
Over the last few decades and particularly in the last few years, he's seen cotton gin projects increase, and he anticipates that will continue as the next generation of equipment is released. Robinson Electric is also involved in projects at Heartland Catfish in Itta Bena. "Just about everything we're tackling just now has something to do with the ag industry," he said. "Technology is changing the shape of the way we do business every single day."
The company sees a good deal of repeat business, working with some owners for the third and fourth times. "That means we did something right," Robinson explains. "As a growing company, we bumped our head along the way, but we never sacrificed quality. We've hung our hat on that for a very, very long time. In the Mississippi Delta, our reputation is everything."
For those preparing for the next natural disaster, Robinson Electric is the only local company with factory-trained technicians for Kohler, Generac and several other lines of standby power generators. Robinson says interest in residential backup generators increased after Hurricane Katrina.
"Peace of mind is what we sell when we sell those generators," he explains.
Robinson Electric responds to growth and customers' needs with additional and extensive training for its employees, from LED lights to generators to safety and loss prevention.
"Our guys are on the cutting edge of everything," said Robinson. "We pride ourselves in staying in front of the trends."
Nearly all the employees at the company entered with little to no experience and trained on the job. Now they range from long-term employees to sharp new hires, ready for the in-house training and apprenticeship programs. "We try to make this a great place to work," says Robinson. "We take care of the employees we have financially and personally."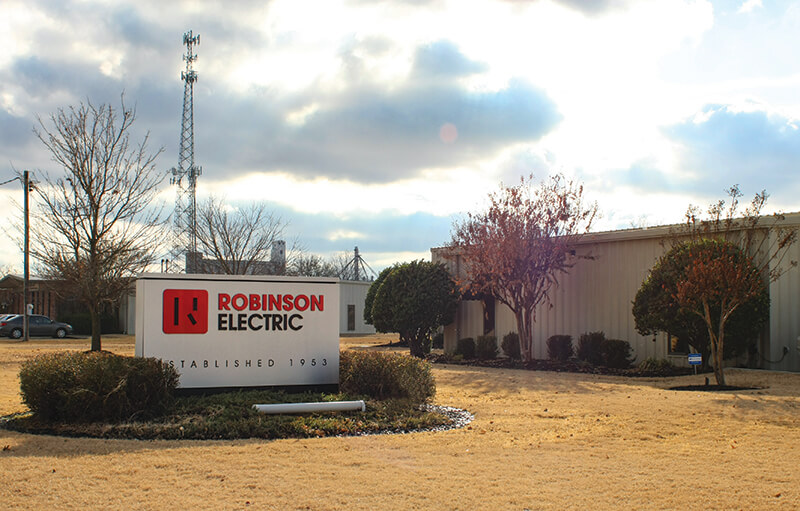 He has firsthand experience with the company's programs. Robinson grew up working at the family business every day after school, then attended Mississippi Delta Community College's career technical program to focus on electrical technology. After an apprenticeship with the company, Robinson ran a truck with his own crew and managed projects for five years before he began shouldering administrative duties in preparation to become president in 2004. "It's been all I've ever known," he said.
Robinson Electric received important recognition in 2019 through its membership in the Association of Building Contractors. Robinson is especially proud of Cleveland's Cotton House hotel, which received a gold award. Both the Delta State University Young Mauldin Cafeteria and the Greenwood Milwaukee Tool expansion and renovations earned silver-level honors.
"We're excited to have received these awards for noteworthy projects in the Delta," said Robinson.
The company also received national and state safety awards in 2019.
"We have an impeccable safety record," said Robinson. "That's important these days."
The Robinson family can trace its history through the business. While Howard Robinson founded the company nearly seventy years ago. His son, David, took over in 1986 and is still involved in the business today. David's wife, Kathy, serves as controller, but plans to retire in January 2021. Their daughter, Heather Robinson Harrison, is the payroll and billing clerk.
And while Brian Robinson currently heads up the business, he's looking to the next generation. He and his wife, Heather, have two young daughters, Hailey and Hayden. The construction industry has evolved over the last 20 years, he knows, providing a number of opportunities for smart, determined women.
"I'm not beyond hoping one of my daughters runs this company," he said.
By Greta Sharp
The Bolivar Bullet