Avid hunter, Stephanie McGarrh describes her encounter
by Jack Criss
The Bolivar Bullet
In a video post widely circulated on her Facebook page, Merigold resident and avid hunter, Stephanie McGarrh recorded an unusual guest in the tree where she was on her deer stand: a huge black bear.
"I had my phone recording him in one hand and a bow and arrow ready in the other. I figured that if something happened to me I at least wanted a video of it so my family would know!" laughed McGarrh.
On the opening morning of bow hunting season, McGarrh was alone in her stand at Merigold Hunting Club on the western side of the county before the sun came up this past Thursday morning when she noticed the tree shake and some movement from above. "It was still dark when I got to my stand and there were hogs on the ground, which is normal. I could hear some limbs breaking from the tree and my first thought was that it was racoons–everytime I hunt there's always racoons. Of course, they're just a nuisance because they drop persimmons on your head! No big deal."
It turns out, though, that while a creature was up in the tree, it was quite bigger than a racoon–and could be much worse than a nuisance.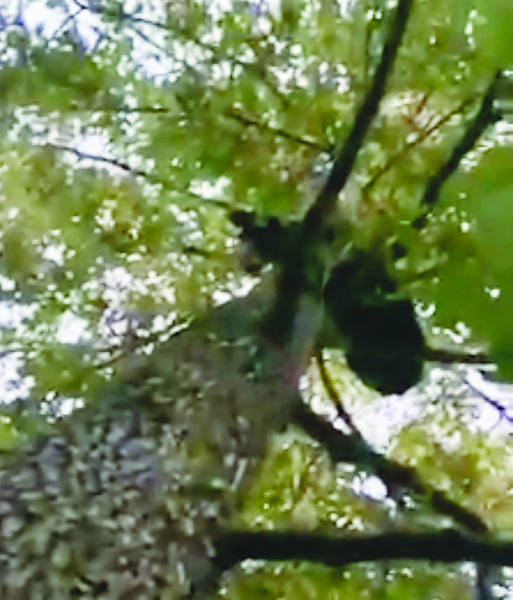 "While I was getting settled in my stand, the tree really started shaking. I shined my flashlight up in the tree and didn't see a thing–of course the bear was black. After a while, the shaking got worse and I started really getting aggravated. Fifteen minutes or so passed and the sun was coming up and I was able to see what was causing the problem. I saw the bear above me and I thought, 'Oh, no.' And the first thing that occurred to me was that it could be a mama bear, which I knew to be in the woods, with her cubs and I certainly didn't want to confront her as defensive as mother bears can be."
By this time, the bear had seen McGarrh, too. "I could tell it was not the mother or a cub, but about a 200-lb. bear that was going to have to come down at some point. I weighed my odds and knew I didn't have enough time to get down and that I was safer staying put in the tree then on the ground–I thought maybe I could kick him off if I had to. He started coming down and I had on my safety harness and stepped back on the platform as far as I could. That's when I started filming with my phone in one hand and an arrow in the other!"
McGarrh says that was not her first encounter with a bear in the woods and that they have never been aggressive.
"I was lucky this time that he came down pretty fast and growled at me when he got close. That was unnerving, no doubt. But, once he got on the ground he looked back up at me, took off running and that was that. About the same time a deer came up right under the stand, but I didn't have a chance to take a shot with the bear still in the area," said McGarrh.
So while she's had other encounters, and bears are common there at Merigold Hunting Club (although no one has ever been hurt), McGarrh says this recent experience was a little too close for comfort.
"I can look back and laugh at it now, but I sure hope I don't see another one in my tree anytime soon!"