Hitting the wide open road
by Will Bradham
The Bolivar Bullet
On June the 13th at 7:00 a.m. Blake Ferretti and I headed out for the Hot Rod Power Tour 2022 in my white 68 Pontiac LeMans convertible. I call her Mary Ann. My red Plymouth Fury is Ginger. Get it, Gilligan's Island.
Years ago Motor Trend Magazine started this tour for hot rod and classic car enthusiasts. They would designate a starting point in the US and outline a route that would take you to five major cities. This year was not different.
We headed out for Memphis early on the morning of the 13th and arrived at the Liberty Bowl around 9:30 a.m. The line was backed up almost two miles. We found out quickly that almost 6,800 cars would be participating in this event. It was wild. Cars were overheating left and right. They just weren't prepared for all those cars at one time, and it showed. We took the back way into the stadium and snuck in. When we pulled up I was amazed at all the different vehicles. We parked the car and started to take pics and talk with other people. It was hot, like sitting on the sun, in front of a fireplace, inside an oven, hot. Plus, there was an almost three hour wait to get credentials. We decided we would try and get all our credentials later on.
Like most guy trips, we planned poorly. We had clothes, a few coolers, some hats, and I made sure we had some extra car parts, just in case. That's about it. We soon realized that we needed chairs, some cold beverages and maybe even a pop-up tent. We left the event and went to a local Kroger and bought what we could. We got back to the stadium and hung out with some people from Kentucky and some guy who told us about his hip replacements for at least two hours. We left around 3:00 p.m. and headed to our hotel room. My girlfriend, Tiffany, met us downtown, and we had dinner, before heading back to the hotel. We were in bed by 9:00 p.m.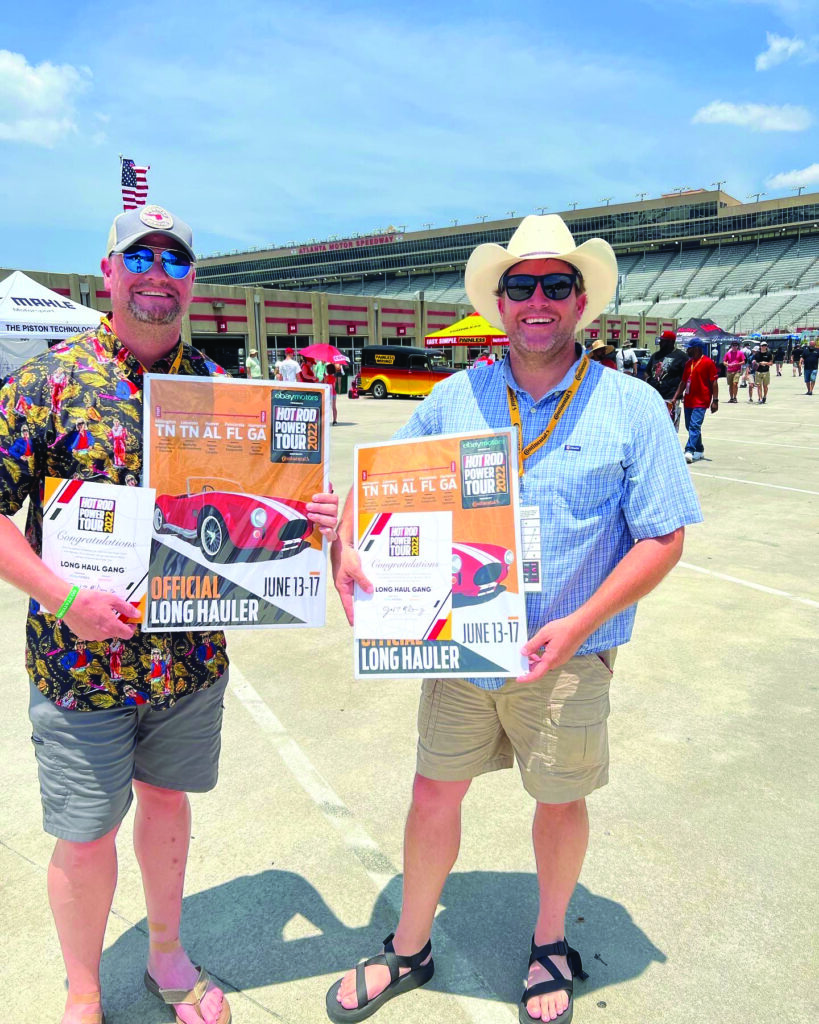 Tuesday the 14th we headed out around 6:00 a.m. for Nashville and the Nashville Speedway, just outside of Lebanon. We figured out that the trips were more pleasant if we left early and could enjoy the cooler weather. We arrived around 9:45 a.m. and quickly found out that we couldn't check in until noon. Again, we are still in the learning process. So, we pulled away and parked near the speedways main office building. We grabbed our chairs, put them under a tree and grabbed our coolers. We sat there and had the best time with a group from Michigan and just watched all the cars come in. We left around 3:00 p.m. and headed to our hotel for dinner. The funniest thing about Nashville was that we ate dinner at a local restaurant, and our waiter suggested a unique appetizer. It was some sort of Tamale thing. While explaining it to us he said, "Have y'all ever had Jiffy Cornbread?" Blake and I just laughed because we both grew up in the Delta, "Yes, we've seen Jiffy Cornbread, once or twice."
We got up around 5:00 a.m. on Wednesday morning and headed towards Birmingham and the Hoover Met Complex. We arrived early, as usual, and couldn't check in until noon. So, we did what we normally do, parked the car in a small lot near a ball field, pulled out the chairs and the coolers and watched all the cars come in. This time we hung out with some locals and a few people from Laurel who were driving a 1936 Ford rat rod. We had a good time and later that day headed for the hotel and dinner. We called it a night early because we had a four hour trip in the morning.
Thursday morning we left at 5:00 a.m. for Pensacola and the Pensacola Fairgrounds. Everything was great until we were about an hour out and then the sun hit us. It was the most miserable I've ever been. We went to grab lunch early and then headed to get checked in at the show. We finally found the check in desk and explained to the nice lady that we had a lot of trouble checking in and that I could show her pictures to prove that we had made every leg of the trip. She wasn't playing around. She wanted those pictures and that was the only way that we got credentialed. We hung around for about an hour and then decided to go check in the hotel. Probably one of the best meals we had was at The Fish House. We hung out with some people from California and New Mexico and just talked about our cars. One guy had a 64 Lincoln Continental that was immaculate. He actually had all the electrical work done to it by the same guy that does all of Jay Leno's cars. We went back to the room and made plans for another 4:00 a.m. morning.
Friday, we left for Atlanta and the Atlanta Motor Speedway. We stopped outside of town and got some tacos at this hole in the wall Mexican restaurant, Nachos. Seriously, it was in a gas station and had probably the best street tacos I've ever eaten. We left there and headed towards the speedway when we got stuck behind some Georgia road department workers. Blake found another route and at that point we found the best part of the trip, Senoia Georgia. We passed through this little town, full of restaurants, shops and little boutique businesses. As we drove through I saw something about Walking Dead merchandise. We were on a schedule, so I asked Blake to google where the Walking Dead was filmed. Sure enough, it was Senoia. Then, we found out that they have had over 35 filmings in this little town of 5,000 people. We got to the speedway, which is impressive, got credentialed and received our plaques. We immediately headed back to Senoia. We spent about four hours there, hung out at a bar, visited with other people who had veered of the path and landed there too. We found out this little town was basically started by one man who completely developed the town on his own. Being a little over an hour from Atlanta, it was a suburb for the people who just wanted to get away from the big city. I told Blake that it felt like a movie set. That's because it is basically a movie set. Everything from Footloose, Fried Green Tomatoes to Pet Cemetery and the Walking Dead series were filmed there. I am planning a trip to go back real soon, and I suggest you do as well.
Overall the trip was a great experience. Blake and I shot the proverbial bull most of the time. Ate at some great spots like SAWS in Hoover, AL, The Fish House in Pensacola, FL and Nacho's Mexican Grill in Hogansville, GA. We also ate at some really bad places that we won't mention. At every gas station we stopped, other classic car travelers would be there and we would just sit and talk cars for a while. On the open road we would have people honk and wave. People literally sat on the side of the road to watch all the cars come through their town. Everyone, and I mean everyone, treated you like old friends. It didn't matter where you were from or what you looked like. It didn't matter if you were in the rarest car on the planet or an old junker. Everyone had a common bond, a love of cars. To me, that was awesome in itself.
In the end, we drove a little over 1,800 miles. We only had one issue and that was that Blake broke my trunk lock about three hours after we started the trip. Other than that, we had a great time, and I highly suggest this for anyone who loves cars.
We are already planning next year's tour.