Long time coach touched many lives during his career
By Andy Collier
Sports Editor, The Bolivar Bullet
The local area lost one of its most respected youth league and junior high coaches earlier this month as Riddell Flowers, Sr. passed away due to complications from COVID-19 on Mar. 19 in Greenville.
Flowers, 72, coached sports at the Cleveland Park Commission for 37 years and coached basketball and football at Ruleville Middle School for over 20 years. He was born in Indianola and was raised in Cleveland as he ended up graduating from East Side High School in 1968. He earned an Associates Degree from Coahoma Junior College in 1970 and a Bachelor of Arts Degree in Social Studies in 1972.
During his life, Flowers, who was a member of the East Side High School basketball and baseball teams, developed a love for sports and used his love as a way to give back to the communities he grew up in.
As a coach in the CPC, his sports teams were consistently winning league championships. He was heavily involved in the leagues and was a key role model for youth especially in the Eastside programs at the CPC.
Quinton Steen, who worked at the Cleveland Park Commission for 33 years and served as Park Director from 1982-2006, said Flowers was very active in the leagues.
"He was one of the assets that I had there helping organize youth sports as far as getting kids on a team and stuff like that," said Steen. "He didn't mess around with his opinion about things. A lot of people also wanted to be on his team. It may have been because he always had a winning team. He was always up for top team every year."
Ted Campbell, who coached with Flowers for many years in the CPC, remembered the success that Flowers' teams had on the field.
"There's no other coach that I can remember that won as many baseball and t-ball tournaments," said Campbell. "He was known for winning just about all the tournaments that we had in t-ball."
The only thing greater than his win total was his reputation as being a coach that got the best out of his kids and wanted them to succeed in life.
Stephen Glorioso, who served as Cleveland Park Commission Director for 11 years and worked at the CPC for 24 years, had fond memories of Flowers.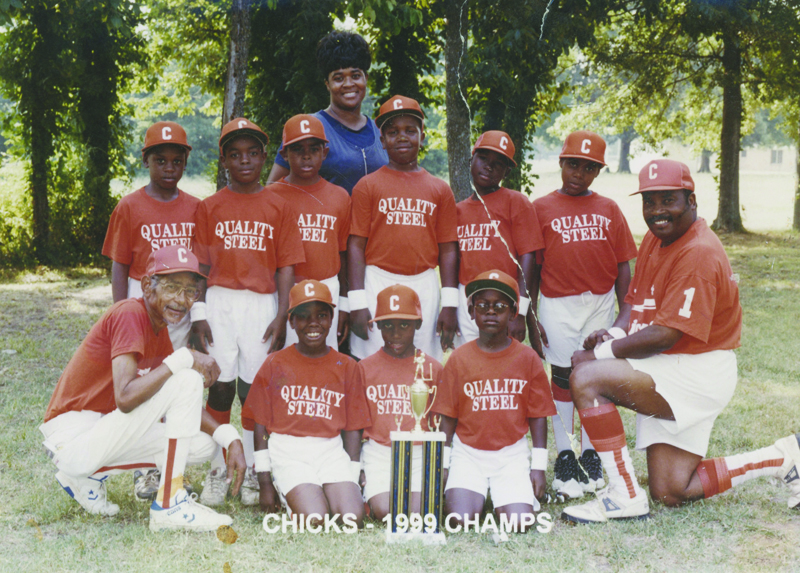 "He coach kids regardless of talent," said Glorioso. "He took time with them, he instilled discipline in them and he had fun with them. He expected 110-percent effort out of all his players. You might beat Mr. Flowers early in the year, but you're not going to beat him at the end of the year. He will practice those kids, teach those kids and get the most out of them. He believed in those kids and believed in the Eastside Community and felt those programs were a vital part of our community."
Along with his dedication to sports, Flowers was a Christian man that had strong faith in God.
Campbell recalled a time during a tournament they were competing in where Flowers set the example that life isn't just about winning and losing games.
"In 1990, Coach Flowers and I went to the World Series in Columbus," Campbell said. "He was very instrumental in all our players going to church. He made sure all of our players went to church. He was a good sportsmanlike person, and I loved him very much. The city of Cleveland and the park commission are going to miss him very much."
Steen said it didn't take long for a player to learn what Coach Flowers was all about.
"He taught them right from wrong," said Steen. "Being a part of his team was acting right and doing right. I thought he was a good coach for our program, because he taught the kids things about sportsmanship, having a good attitude and things like that. He was one of the good coaches that we had at the park commission."
Robert Sanders, City of Cleveland Alderman for Ward 2, said Flowers cared about the youth in Cleveland.
"You see a lot of coaches, and he's one of the ones that stood out," said Sanders. "He was very unique. He was one of the ones that was a pillar of the community, and he was one of the ones that was able to build moral among the youth in our community. One thing Coach Riddell Flowers did was make sure the youth was protected, and the parents knew that there was not only a coach but a father figure there for the kids."
Tommy Buford, who is the Head Football Coach at Cleveland Central Middle School, played for Flowers' Quality Steel T-Ball team in 1999. Buford felt Flowers made a tremendous impact on him.
"He is one of the most dedicated coaches I ever had," said Buford. "His patience and ability to teach and motivate are unmatched to this day. He was the first coach I ever had and definitely launched me towards having an athletic and coaching career that I'm very proud of."
Flowers made just as big of impact in the Ruleville Community as he did in Cleveland by leading those Ruleville Middle School teams. The values he instilled coaching youth league teams in Cleveland stayed the same coaching his team at RMS. Along with being a coach at RMS, he also served one stretch as the school's vice principal.
Michael Walls , who played for Ruleville Central's 2A State Championship Basketball Team in 1992 and played at Coahoma Community College, played junior high basketball at RMS under Flowers in 1989 which was Flowers' first year at the school.
"He was a disciplinarian, and he had a lot of knowledge about sports," said Walls. "Basketball, baseball, you name it and he knew something about it. He put everything into coaching. We came to practice everyday, we practiced hard and we had a successful season. Most of all, though, he was a like a father to us."
Walls recalled some of the things Flowers did and stressed to help young student-athletes out.
"He stressed to us stay in school and graduate," said Walls. "He was that guy that would take you to his home, let you spend the night at his house, take you to the movies, he showed love and compassion for his players and anybody."
Adrian Wilson, who was a member of the Ruleville Central Tigers basketball team that finished 3A State Runner-Up in 2003 and also played basketball at Mississippi Delta Community College, played under Flowers at RMS in 1998-99.
Wilson said Flowers was a true coach and father figure.
"When I think about Coach Flowers, I think about a man that stood for the right things and structure," said Wilson. "One thing he liked was that toothpick on the right side of his mouth. He was just like no other coach that I had known since I was in seventh grade up until eighth grade."
Another thing that left an impression on Wilson is the fact he wanted his players to present themselves as winners off the field as much he did on the field.
"He wanted you to have on a shirt and tie," said Wilson. "He wanted everybody to be color coordinated. He didn't play about things like that. He took pride in dress for success."
Wilson felt Flowers was one of a kind.
"We knew the game inside and out," said Wilson. "Coach Flowers had an eye for the game. He was a legendary coach. He was a winner."