Johnson leaves NHS to become football coach, administrator
at Hollandale
By Andy Collier
Sports Editor, The Bolivar Bullet
Tavares Johnson, Sr., who has been the head football coach at Northside High School for three years, announced Thursday evening he will be moving on.
Johnson has accepted the job as Head Football Coach at Simmons High School in Hollandale. He will also be the Director of Operations at the Hollandale School District. This will be Johnson's second tenure as head football coach at Simmons as he led the Blue Devils to two 1A State Championships in 2015 and 16 and a playoff appearance in 2A in 2014. The Blue Devils went 39-2 with three region championships in Johnson's first tenure with the team.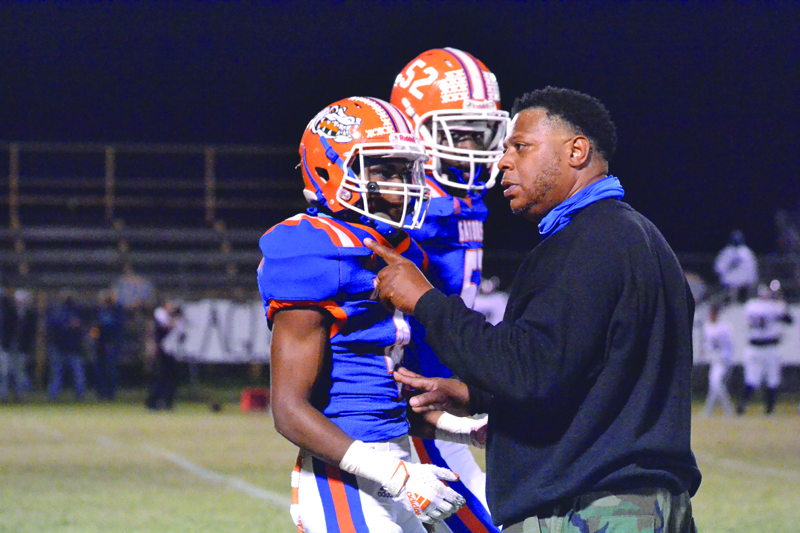 Johnson said the decision to leave Northside was a tough one, but he had to make the best decision for his family.
"I've always said Hollandale has been a great place for me," said Johnson. "They've helped me tremendously through my career. It just made sense to go back and try to give back to the institution that got me where I am right now."
Johnson is the first head football coach in Northside High School history as the school was formed from the merger of John F. Kennedy Memorial High School in Mound Bayou and Broad Street High School in Shelby in 2018. In Johnson's tenure, Northside has emerged as one of the top 2A teams in the state as the Gators have posted a 27-6 record with two Region 3-2A Championships and a 2A State Runner-Up finish in 2019. In 2020, the Gators were 8-1 and advanced to the third round of the 2A State Playoffs. Along with his head football coaching duties, Johnson has served as athletic director for two years and was assistant principal at the school this year.
With Johnson being involved more on the administrative side as his career has developed, he felt the chance to become Director of Operations at the Hollandale School District was a step up.
"At some point in time as a football coach, you have to eventually hang your whistle up," said Johnson. "Any time I can get a chance to expand my professional development in regards to administration that's an absolute no brainer. The same energy I take on the football field is the same energy I take as an administrator. Dr. (Mario) Willis, the superintendent, recognizes that in me, and he is giving me an opportunity to showcase it. I'm just grateful for the opportunity. It's not everyday you get to be the director of operations at a school district and have a great impact on school achievement. That's what I'm all about."
Johnson felt the time he's spent at Northside and the North Bolivar Consolidated School District is one that he will cherish.
"I've established some great relationships with my players and principal (Fredrick) Ford and some of my colleagues at North Bolivar, but it was a necessary decision that I had to make to further my professional development in this field of education," said Johnson.
Northside High School Principal Frederick Ford felt Johnson made a great impact at the school.
"Coach Johnson hands down is one of the best coaches in the state," said Ford. "He totally rebuilt the Northside football program on and off the field. Our weight room is second to none in the Delta. It will be hard to replace him, but we will make sure our young men will have a great coach. We wish him the best."
School officials have confirmed the search is on for an Assistant Principal and Head Football Coach.
North Bolivar Consolidated School District Athletic Coordinator Demarcus McKinley said Johnson left some big shoes to fill.
"Whoever comes in has to have the mindset of winning and be willing to take it to another level," said McKinley. "They have to be able to match Johnson's energy."
Johnson has been a head football coach since 2005 and has led teams to playoff appearances in four different classifications. He also led East Side to five playoff trips (2006, 08, 09, 10, 11) with a region championship (2011) on the 3A level and led Vicksburg to a playoff appearance (2013) on the 5A level. His overall career record is 128-64.