Radio Station that has been locally owned & operated since 1957
By Angela Rogalski
The Bolivar Bullet
For over 60 years, RCI Delta has been serving the airwaves of the Mississippi Delta with great music. From country to urban to gospel, the stations that RCI Delta own and operate today bring consumers and advertisers together in a strong and creative way.
WCLD-AM and WKDJ-FM, Cleveland/Clarksdale (Rejoice 1490AM/96.5FM), offers Black gospel music and serves Bolivar, Coahoma and Sunflower counties; WCLD-FM (Jammin' 104), Cleveland, spins urban contemporary and serves Bolivar, Leflore, Sunflower, Humphreys and Washington counties; WMJW-FM (Majic 107.5), Rosedale, plays country and reaches Bolivar, Sunflower and Coahoma counties; and WAID-FM (Power 106.5), Clarksdale, offers urban contemporary to Coahoma, Tunica, Quitman, Tallahatchie and Panola counties.
Owner and president, Kevin Cox, said the history of RCI began with a group of businessmen in 1957 and really evolved over the years. In 1991, the original manager and the man who had put the business group together retired and Cox and his business partner came onboard then. Eventually, they bought out the other shareholders, and in 2020 Cox bought out his partners and became sole owner.
"So we've been locally owned and operated since 1957," said Cox. "We currently have five radio stations, two licensed to Cleveland, one licensed to Rosedale, and two licensed to Clarksdale. We serve a variety of audiences: younger, older, Black, White, male, female; depending on their preference, we have the radio station for them. We have two urbans, two gospels, and a country station. And, we've been in our present location on Hwy. 61 S. since 1968. We take pride in that because with all the changes in business and media, we've been able to adapt and thrive."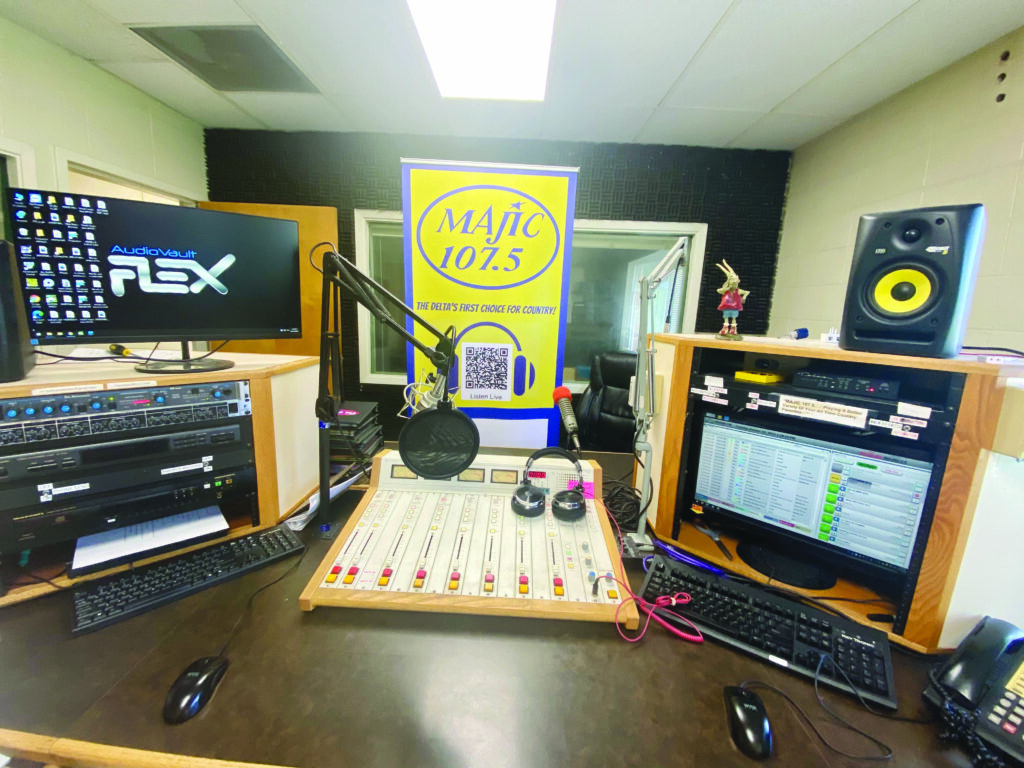 Cox said the reason his radio business has been able to adapt to the ever-changing business landscape and succeed is his people.
"We have good, solid anchors of the industry," he added. "Jim Gregory does the morning show on Majic 107.5, which is our country station, and Jim is coming up on 50 years in the radio business. That being said, Jim is a sort of radio legend in the Mississippi Delta, so we're very fortunate to have him. Our other anchor is Doug Johnson, who heads our sales department. He's local, grew up in Cleveland and then moved away to go play in the big leagues, but decided he wanted a quieter lifestyle and moved back home. So, he has decades of experience in radio. And then there's my daughter Shelby Cox who is now my brand manager as we go into the future and try to find new ways to market ourselves through social media and also to provide services to our clients, such as producing videos, graphics and with our new digital media marketing."
Cox said he got into the business of radio truly by accident.
"My mother and this radio station manager were coaching my little brother's soccer team and he needed a warm body to deejay at the station. I was in my second semester at Delta State when I got bit by the radio bug. When I graduated from DSU, my plan was to go on and do different things, but I got an opportunity to move to Indianola and get into radio sales. Well, I knew I liked radio, so I moved there and took that job. And, it just progressed from there."
Cox believes in bringing radio full-fledged into the 21st Century with gusto and a robust positivity of success.
"In this day and age, you have to brand and promote yourself to people who are not current listeners but who you want to become listeners. So, we have apps for our stations on Google Play and the App store as well as being on the Amazon Alexa platform to offer more ways to listen to our stations," said Cox. "We also utilize digital and social media to reach out to potential listeners. And we market these perspectives to our advertising clients as well."
Cox added a new website will soon be available to everyone: RCIdelta.com where more information on all their various platforms can be found.